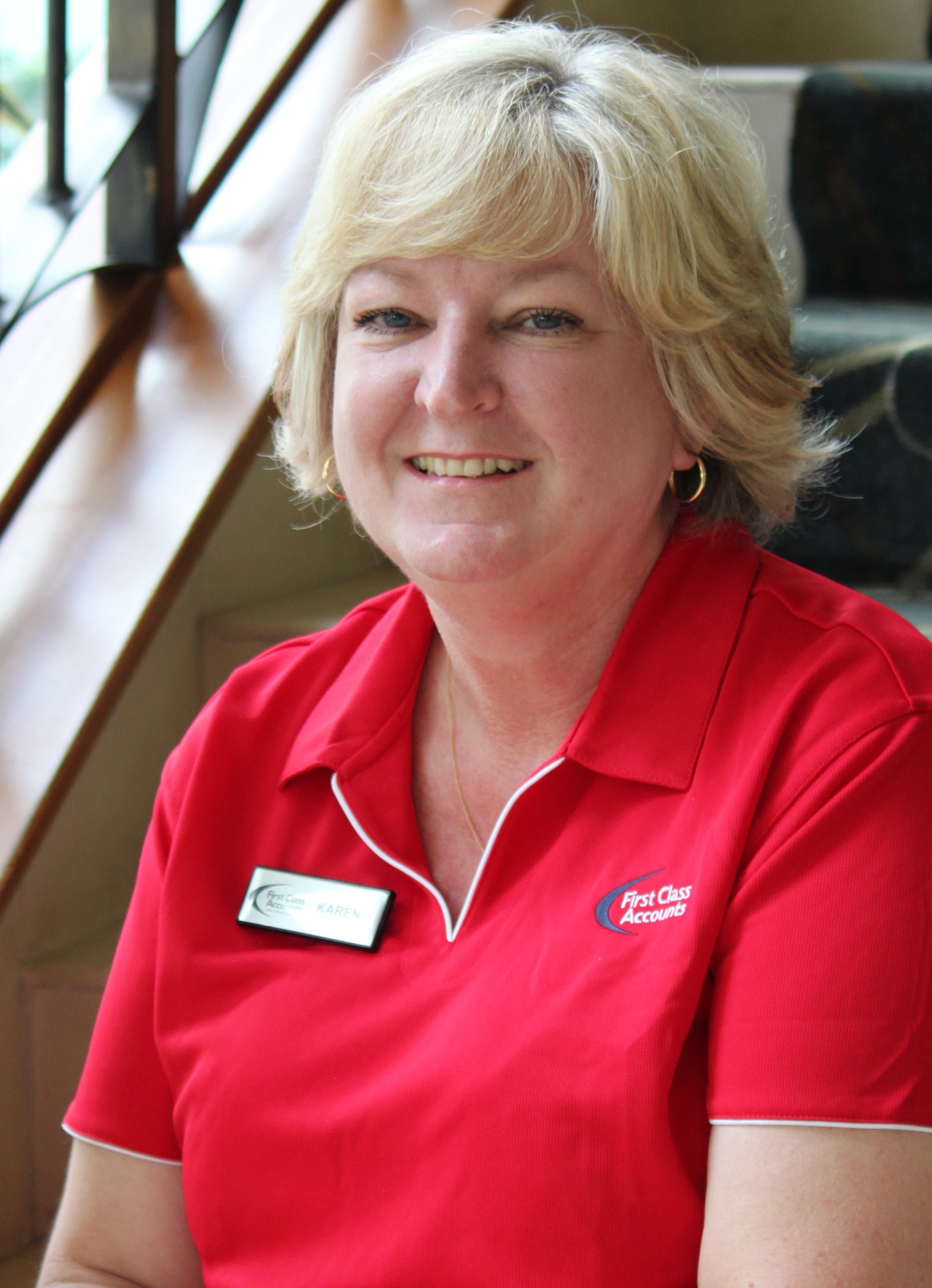 Karen Bradshaw
First Class Accounts - Balcatta
Karen has a passion for helping small businesses succeed. See how she can help your business.
0414 479 292
PO Box 799
Duncraig WA 6023
Karen's Profile on LinkedIn
With many years' experience working as an accountant in large multi-national organisations as well as in small owner/operator businesses, Karen has a wealth of knowledge and experience to help business owners with their bookkeeping and management accounts. This breadth of knowledge and experience allows her to assist clients with their business financial management, in addition to providing the accurate and high quality bookkeeping and compliance that her clients require.
Karen is able to help small businesses understand their financial results as well as providing GST/BAS/PAYG, cashflow, budgeting, and forecasting services. Specialising in Xero software, but also supporting MYOB, she can help businesses maintain good, effortless bookkeeping and accounting records by providing a range of services from minimal ongoing support to fully outsourced bookkeeping and ad hoc troubleshooting services.
With a passion for helping small businesses, Karen is driven to provide a quality and timely service resulting in high client satisfaction, thereby adding value and making a difference for her clients.
Contact Karen now for a free, no obligation assessment, to see how she can help your business flourish.
Skills
Successfully completed the First Class Accounts Accredited Cert IV in Finance (Bookkeeping)
Fully trained in accounting software such as MYOB, Xero & Reckon Accounts
Fully registered and authorized to trade as a First Class Accounts professional bookkeeper
Fellow of the Association of Chartered Certified Accountants
Registered BAS agent:25496136
Services
BAS/GST/PAYG
Bank reconciliation
Accounts payable and receivable
Weekly, monthly or quarterly accounts management
Financial reports and analysis
Debt management
Cash flow management
Stock control and inventory
Software training
Management Accounting
"

I've told Mark I'm keeping you forever! The joy of finally having an amazing Bookkeeper!!!

"

"

As a small business owner I need to mitigate my risks and one of the key areas of risk in all small business is finance. To enable me to focus on the operational aspects of the business I engage Karen Bradshaw from First Class Accounts, Balcatta to help me 'sleep at nights'. I have worked with Karen for the past 6 years and I would not be where I am today if it wasn't for her professionalism, honesty, encouragement, support and guidance. I manage all our business finances as a Director and it is a very comfortable feeling knowing I have Karen at First Class Accounts overseeing my accounts while I also focus on other mountain of small business owners responsibilities.

"

Westmarine Boating Services Pty Ltd

"

As a small business owner, we are constantly juggling many and varied business activities to ensure the smooth operation and cost effective strategies are maintained, one of these being our accounts. I have for many years been tied to MYOB on a desktop computer, trying my best to generate invoices, record payments and file paperwork in the correct location, certainly not my strength and in hindsight a very archaic system. Then, along came Karen, extremely professional, walked me through the best and most up to date methods of accounts in which I could access anywhere at any time. Karen has been my little saviour; I no longer worry at all about the accounts as I don't do any at all apart from generating invoices. Karen has alleviated all my stress in this regard, I have gained time for more important areas in which I specialise. If I send Karen a query on any matter she responds extremely quickly. Any receipts I photograph on the IPad/IPhone, it goes somewhere…  and Karen records (I don't need to know how or where only the fact that Karen has it all under control). I am certainly in great hands and I would recommend karen to my closest friends and business associates.

"
Areas Serviced
6021 Balcatta
6061 Mirrabooka
6023 Duncraig
6024 Greenwood
6064 Girrawheen
6022 Hamersley
6020 Sorrento