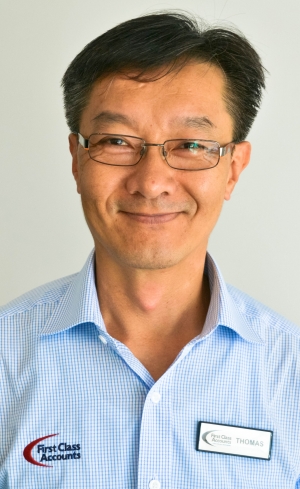 Thomas Chau
First Class Accounts - Bankstown
I am a skilled professional bookkeeping franchisee who can perform more than just bookkeeping. The clients' needs are my priorities.
PO Box 1226
Menai Central NSW 2234
Thomas's Profile on LinkedIn
Thomas Chau, bookkeeping franchisee supported by the biggest bookkeeping franchise in Australia, First Class Accounts. Thomas is on hand to assist local small to medium businesses with all their bookkeeping and financial reporting needs.
Thomas has a Master of Business Administration and a Master of Professional Accounting. He is a Certified Practising Accountant, voting member of the CPA Australia. He is a BAS Agent registered in the Tax Practitioners Board.
Thomas has over 30 years accounting experience, specialising in financial analysis and management reporting. Started his career in KPMG, Thomas is well trained in financial control and establishment of sound accounting systems.
Thomas is a professional partner with MYOB and Reckon as well as a Certified Adviser of Xero. He can assist with installation and set-up of software, BAS preparation, payroll, bank reconciliation, financial reporting, analysis, budget for financial management as well as application of bank loan, and will manage your books with confidentiality, efficiency and accuracy.
Thomas is passionate in giving his clients the peace of mind they need to get on with running their business. He works flexible hours from home office and can work in your place. He is keen to partner with the owners of small to medium businesses in building up their business to a higher level, balancing their lives rather than using their time in bookkeeping and financial reporting for compliance. Thomas is also keen to partner with those who need professional advice on utilising their financial resources more wisely.
No matter how small or large your business, Thomas is able to provide First Class solutions to meet your bookkeeping and financial management needs and ensures your life is given back if you give him your books.
Skills
Master of Business Administration (MBA)
Master of Professional Accounting (MPA)
Certified Practising Accountant (CPA) No. 9152170
BAS Agent No. 24837798
MYOB Professional Partner
Reckon Professional Partner
Xero Certified Adviser
Services
Budget for financial management and application of bank loan
GST settings and BAS returns
Payroll, payment summaries and superannuation
Bank reconciliations
Accounts payable and receivable
Weekly, monthly or quarterly accounts management
Financial reports and analysis
Cashflow management
Stock control and inventory
Software training
"

Thomas is more than just bookkeeper. He supports the work of our external accountant and helps to reduce the expenses of the company and improves the cashflow. He is able to identify the gap and claims back the GST omitted. He is trustworthy and extremely reliable. I have no hesitation in recommending Thomas to every small to medium business.

"

AK Power Solutions Pty Ltd

"

I have known Thomas for over 25 years since both of us were working in the Professional Accounting field. With a solid training in one of the Big 4, plus his broad and deep practical accounting experiences in both of the commercial and public sector, Thomas has been made a competent and trustworthy Accounting services provider. With sound business acumen and practical skills, Thomas will be highly capable in understanding accounting needs for small business of any kinds and be able to provide effective and efficient services and solutions. Also knowing Thomas at a personal level, I am always impressed by his sincerity and integrity. Thomas is a friendly person who is always enthusiastic and committed in helping others diligently. With his solid accounting background, unique personality, and positive attitude, I trust you will find his accounting services client oriented and reliable with high professional quality. I have no hesitation in recommending Thomas Accounting Services to any persons or businesses.

"

NRMA (Retired Finance Manager)

"

Thomas is a dedicated professional who will give his very best whatever he does. With his strong analytical skills & business insights, he will provide invaluable advice to assist business to reach their full financial potential while at the same time maintain good accounting records. As a long-time friend and working in the same profession, I wholeheartedly recommend Thomas for any business owner who is looking for a competent accountant.

"

"

Thomas Chau has been my best friend for more than thirty years. He is a man of great integrity whom you can trust without fail. As an accountant, he takes his work with due care and gives balanced and fair professional advice. Thomas always works diligently to get the best outcome for his clients. I congratulate him to start his book keeping services which I'm sure whoever Thomas works for will be satisfied and found him a great resource for the development of your business. Thomas is very dedicated to his family and passionate about his work. He finds joy having quality time with the family and satisfaction when he can guide others to success through his work. I feel very blessed to have a friend like Thomas.

"

Accredited Medical Sonographer
Areas Serviced
2200 Bankstown
2211 Padstow
2212 Revesby
2213 Panania
2214 Milperra