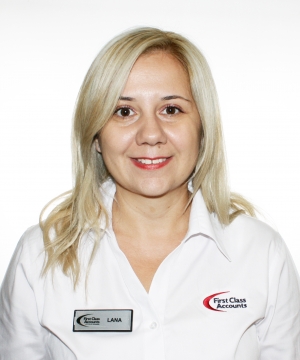 Lana Blazeska
First Class Accounts - Bexley
If you want a bookkeeper who works as hard as you do, contact Lana now and she will assist you to understand your accounts
02 8959 4962
0450 051 061
12/14 Crawford Road
Brighton Le Sands
First Class Accounts - Bexley is a full service bookkeeping corporation serving a wide range of industry types.Our services are ideal for organisations who do not have the time or background to handle accounting functions.
First Class Accounts - Bexley is committed to building long term relationships with clients through well organised trustworthy bookkeeping.
Here is 7 good reasons why you would use First Class Accounts - Bexley and what's in it for you?
1. You save money with more accurate and efficient records using a fully trained and qualified bookkeeper.
2. No more confusing jargon as you are dealing with someone who has been in business and understands the problems that confront your business.
3. Makes your business more cost effective as your bookwork is processed either on a cash book system or on computer using MYOB, Xero and Reckon.
4. No more stress, all your bookkeeping work will be taken care of for you.
5. You save time as your paperwork can be processed at your place of business or picked up and done offsite if more convenient.
6. No more unsolved problems as you will have back up and support from an organisation which has access to MYOB, Xero and Reckon consultants.
7. Your success is top priority with First Class Accounts - Bexley, extending to you our five star service, our reliability and absolute confidentiality.
Don't waste your valuable time tangled in your business bookkeeping - phone now for a no obligation free consultation.
Skills
Successfully completed the Master of Accounting from University of Technology Sydney
Completed the First Class Accounts Accredited Training Program incorporating Cert IV in Finance (Bookkeeping)
Fully trained in accounting software such as MYOB, Xero & Reckon Accounts
Fully registered and authorised to trade as a First Class Accounts professional bookkeeper.
Member of the Association of Accounting Technicians Australia
Services
Bookkeeping services
Bank reconciliation
MYOB
XERO
Reckon
Add On's
Working under the Supervision and Control of Tax Agent: First Class Financial Group Pty Ltd - Tax Agent number 20874002
Areas Serviced
2136 Enfield
2133 Croydon Park
2191 Belfield
2193 Canterbury
2194 Campsie
2192 Belmore
2206 Earlwood
2208 Kingsgrove
2207 Bexley