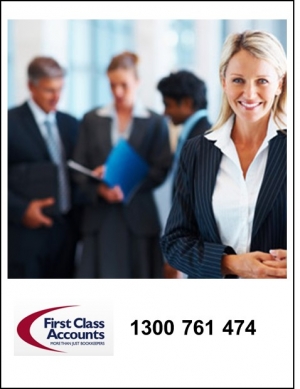 First Class Accounts In Canberra - meet the Canberra Team
First Class Accounts - Canberra City
Address:
PO Box 5006
Lyneham 2602 ACT
Phone:
1300 761 474 Canberra Office, London Circuit
A Little About Me
THE PRACTICE:
First Class Accounts Canberra City provides accounting software and accounting system solutions to SME's in the ACT (and remotely to other states in Australia).
Our service fully integrates by also offering, in addition to the accounting system (Xero / MYOB), bookkeeping and payroll solutions to clients who wish to have this function outsourced.
Our team is fully equipped and have the experience you will need to set up and maintain your company financial system.
Summary
GET THE RIGHT ACCOUNTING SOFTWARE PACKAGE:
We will advise and provide your business with the right accounting software  with a full range of services to back up the product offering thus creating not only a once off solution, but ongoing professional service support.
We aim to become the preferred provider of XERO accounting solutions in Canberra.
VALUE ADD SERVICES:
We provide a full service bookkeeping service with experience in a wide range of industry types. Our services are ideal for organisations who do not have the time or background to handle accounting functions.Our team is known for its quality and efficiency
Also Visit: www.natcapfinance.com for Small and Medium Business Finance Solutions.
Finance solutions offered through www.firstclasscapital.com.
The Canberra Crew is happy to discuss and advise on the best outcome for your business.
Skills and Qualifications
B.Com - RAU (SA)
Post Grad FP - UFS (SA)
services
Accounting Systems Suppliers
Setting up Accounting Systems
Accounting System Support
Bookkeeping Support
Payroll Support / Service Support
Bank reconciliations
Weekly, monthly or quarterly accounts management
Financial reports and analysis
Debt management
Cash flow management
BAS returns / PAYG reporting
Accounts payable and receivableStock control and inventory
Payroll, payment summaries and superannuation
Software training
Recommendations
Area Serviced
2600 Canberra
2601 Acton and City
2601 Deakin
2602 Ainslie
Contact First Class Accounts In Canberra Today
Initial 1 hour consultation is FREE and First Class Accounts In Canberra will come to you.
Connect with First Class Accounts In Canberra