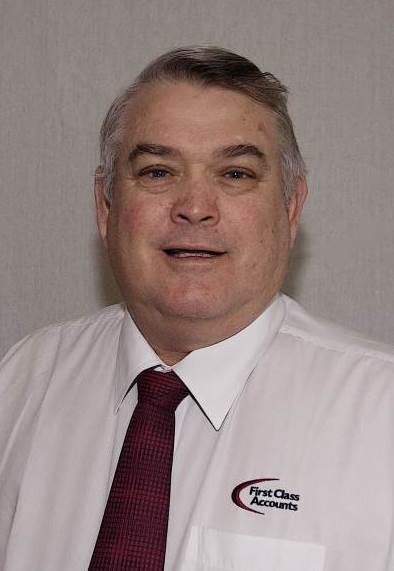 Graeme Day
First Class Accounts - Clayfield
Graeme, your specialist MYOB Certified Consultant in North Brisbane, has a passion to help small business succeed. How can I Help You?
07 3256 4782
0402 841 627
PO Box 5639
Stafford Heights 4053
Queensland Australia
Graeme's Profile on LinkedIn
gday@firstclassaccounts.com - an e-mail worth remembering if you require assistance with your bookkeeping or need help in setting up or training in M.Y.O.B. software.
Graeme offers a full service bookkeeping business, serving a wide range of industry types. These services are ideal for businesses and organisations that do not have the time or knowledge to handle bookkeeping, BAS or GST commitments themselves.
For First Class Accounts Clayfield to be successful; our clients must also be successful. Which is why we do our very best to ensure our clients bookkeeping procedures are as efficient and accurate as possible.
As your specialist MYOB Certified Consultant on the north side of Brisbane, Graeme offers, accuracy, quality and efficiency as priorities in all work and aims to provide great financial management solutions to every client on time, every time!
A Registered BAS Agent #24745540, Graeme also has a Certificate IV in Financial Services (Bookkeeping) FNS40207, is a Certified Consultant with M.Y.O.B. and a Dynamic Web Training teacher of the M.Y.O.B. software.
Graeme also understands the time constraints and other pressures that most businesses are under these days to achieve sales and profit, leaving little time for accurate record keeping. That is why our services are as flexible as possible to maximise the benefits for our clients.
With our 1 hr Free consultation, we will visit your business and discuss exactly what your particular needs are. Once we fully understand your requirements we will set a course of action customised to your situation. From there, our services can be delivered on site, off- site or in the cloud and at intervals that are consistent to your needs and preferences.
In recent times technology has completely changed the accounting industry and Graeme has stayed up to date with all the latest cloud based solutions and was involved in the pilot program for the MYOB AccountRight live software.
By staying abreast of these developments, Graeme can ensure your bookkeeping processes are always up to date minimising the time spent on your books, while maximising your profits.
Graeme has over 30 years of practical experience in all sizes of business, from large multi national's to small sole trader operations. And is committed to building long term relationships with clients through well organised, accurate and trustworthy bookkeeping and a determination to benefit you the client.
In this modern age time is everything and one of the biggest problems small business owners have is that they do not have enough time to spend with their loved ones.
So "Give us your books and we will give you back your Life."
Skills
M.Y.O.B. Certified Consultant
BAS Agent - Tax Practitioners Board Registration #24745540
Certificate IV in Financial Services ( Bookkeeping) FNS40207
Quality Training Solutions Pty Ltd
Services
Services provided include but not limited to:
Accurate bookkeeping services
Bank reconciliations
Accounts payable and receivable
Stock control and inventory
Payroll, payment summaries and superannuation
Weekly, monthly or quarterly accounts management
Providing needed and timely Financial reports
Ensuring GST settings are correct
GST reports are accurate and on time
BAS return lodgement
Backlog catchup - ensuring books are up to date
Installation and Setup of M.Y.O.B. Software
Training in best use of M.Y.O.B. software
"

Graeme Day FCA Clayfield is excellent at all things MYOB and bookkeeping in general. We have used him since August 2008, firstly to train us and in MYOB and then quarterly to prepare our BAS. He is punctual, efficient, knowledgeable and professional.

"

"

Great bookkeeper. Excellent networker and small business franchisee operator. Very nice guy!

"

Combined Tax and Business Solutions

"

Graeme takes great pride in his great experience, knowledge and expertise in bookkeeping and MYOB. Always forthright, he will take pride in helping you with business or training needs. Give him an call and you will get a great and dedicated bookkeeper.

"

Training Manager at First Class Accounts

"

A very useful refresher for me. Graeme the instructor also used his personal experience to show alternate ways of doing things/useful short cuts - invaluable tips!

"

"

I have been using MYOB but have been self-taught. I learnt so much from Graeme over these last couple of days. The different ways of doing things through MYOB was very interesting and should save me more time. Graeme was extremely helpful with the MYOB, but also the other sites where we can get information from.

"

"

Brilliant! Graeme is a very knowledgeable and well spoken instructor that tailored his approach to the requirements of the training audience, an absolute pleasure. His in-depth knowledge and easy going understandable teaching style made for an excellent learning environment and was set at the perfect teaching pace. Very happy.

"
Areas Serviced
4011 Clayfield
4008 Pinkenba
4009 Eagle Farm
4012 Nundah
4030 Windsor
4031 Kedron
4030 Lutwyche
4013 Northgate
4030 Woolowin
4011 Hendra
4007 Brisbane Airport
4012 Wavell Heights
4012 Toombul
4031 Gordon Park