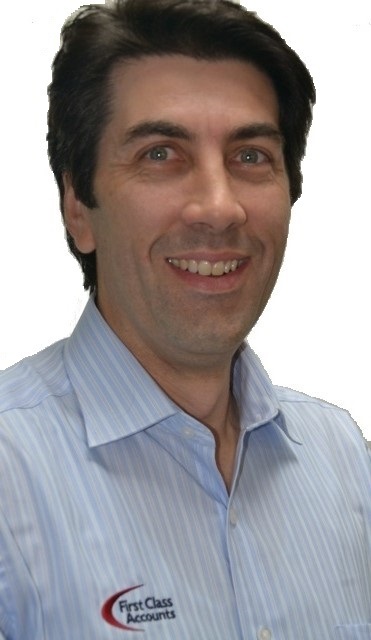 John Papas
First Class Accounts - Mascot
An Accountant with over 25 years of experience delivering big business know-how to small to medium businesses.
02 97911169
0416 502 154
PO Box CP140
Condell Park NSW 2200
John's Profile on LinkedIn
Our business is a full service bookkeeping franchise with the First Class Accounts Group, Australia's largest bookkeeping group. As the industry leader, the group has the highest accreditation standards, technical support and ongoing training. We stay current with legislative changes and best practice to give you peace of mind that you are dealing with the best qualified and reputable in the industry. We offer to install, run and support your accounting system. As a proud Professional Partner with MYOB, Reckon and Xero accounting systems we offer end-to-end accounting system solutions. We can prepare your books for presentation to your tax accountant/auditor and work closely with them as business partners. As a Certified Credit Executive with the Australian Institute of Credit Management and a strong background in credit management, I can assist in improving trade receivables collection and building strong credit procedures. Our business model is to build/maintain your accounting system, ensure accurate and timely reporting and then work closely with you in areas such as business planning and financial control. My management style is consultative & supportive with an absolute focus on efficiency & achieving results. With strong technical & leadership experience, I inspire those I interact with to engage with strategy & achieve their best. Growing with our clients and exceeding their expectations is an absolute passion.
Skills
Bach. of Economics (Accounting) with Management Information Systems submajor – MACQUARIE UNIVERSITY
First Class Accounts Full Accreditation
Certified Credit Executive (CCE) Member of the Australian Institute of Credit Management (AICM)
Professional Partner status in the following major accounting packages: MYOB; Xero; Reckon
Member of the Association of Accounting Technicians
The Fortune Group - Management training program
Advanced Excel certificate
Services
MYOB; Xero; Reckon accounting system setup/training
Weekly, monthly or quarterly accounts management
Credit Management and Accounts Receivable
Accounts Payable
Bank Reconciliations & G/L Reconciliations
Cashflow Management
Stock Control and Inventory Administration
Business Reports, Budgeting and Financial Analysis
Policy & procedure reviews
I am working under the Supervision and Control of Tax Agent: First Class Financial Group Pty Ltd - Tax Agent number 2087 4002
"

John is an excellent problem solver. He watches the detail and does not lose sight of the big picture. He was also a terrific manager of staff.

"

McPhersons Consumer Products P/L

"

I engaged John for several months to service a new, large, client of mine. They needed their accounts brought up to date and to improve their accounting processes. John has an eye for detail and his investigative skills were the key to piecing the accounts together and he worker diligently to bring them up to date. John was also well organised and he built up a great rapport with the office staff. John has extensive MYOB knowledge and his depth of accounting experience helped in automating processes which led to substantial efficiencies in the accounting function. John did alot of work preparing for the end of year audit & to very tight deadlines. He also worked well with the external auditor. I thoroughly recommend John for your accounting needs. His passion for helping small businesses shows in his outstanding results, whilst his down to earth style and strong communication skills let him work in well with people at all levels.

"

Abacus Accounting, Bookkeeping & Business Services
Areas Serviced
2019 Botany
2020 Mascot
2044 St Peters
2205 Arncliffe
2216 Rockdale