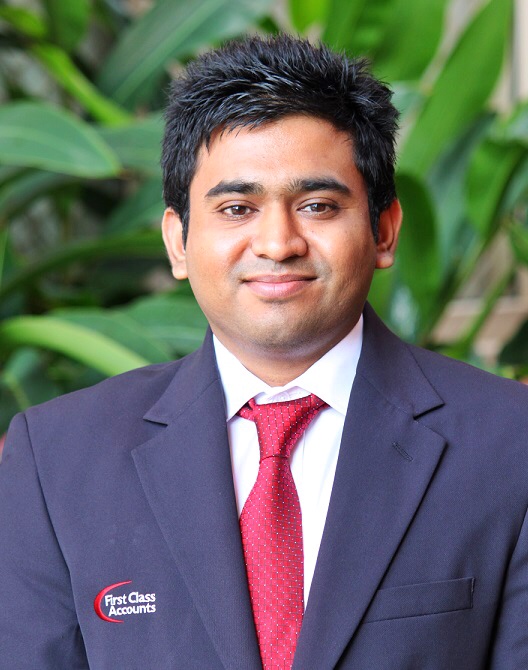 Sanket Patel
First Class Accounts - North Geelong
Take the stress out of your finances, and make sure your business stays on track, with exceptional quality bookkeeping services.
0430 241 391
PO Box 258
Geelong North
VIC-3215
Sanket's Profile on LinkedIn
Sanket Patel, with the backing of First Class Accounts, Australia's largest bookkeeping franchise, brings expert bookkeeping services to North Geelong and surrounding areas.
Sanket is very highly qualified, with a bachelor's degree in commerce and a master's degree in accounting, and is passionate about helping businesses take control of their finances. His experience working in the accounting industry has fostered his inherent attention to detail, and his motivation to provide the best quality services in the region.
Sanket is skilled in a wide variety of bookkeeping applications, especially Xero and MYOB and he has extensive experience with accounts payable, accounts receivable, payroll and generating reports.
Driven by client satisfaction, Sanket is extremely flexible in his approach to his bookkeeping services. He is regularly available outside of normal business hours, offering appointments during evenings and weekends, to work around the busy schedules of his clients. He is very comfortable with digital technology, and the advanced bookkeeping options that it allows, and is able to work both on-site and remotely.
Sanket is extremely passionate about small business, and is keen to see small business owners succeed. He takes great pride in the services that he is able to offer to business owners, and has a strong desire to be involved in long-term business relationships.
For a free, no obligation assessment, contact Sanket now, to see how he can help your business grow and succeed.
Skills
Master of Professional Accounting (Ballarat University)
Bachelor of Commerce - Accounting (Gujarat University)
Successfully completed the First Class Accounts Accredited Training Program incorporating Cert IV in Finance (Bookkeeping)
Fully trained in accounting software such as MYOB, Xero & Reckon Accounts
Fully registered and authorised to trade as a First Class Accounts professional bookkeeper
Member of the Association of Accounting Technicians Australia
Multilingual: English, French, Gujarati, Hindi.
Services
Bank reconciliation
Accounts payable and receivable
Weekly, monthly or quarterly accounts management
Financial reports and analysis
Debt management
Cash flow management
Stock control and inventory
Working under the Supervision and Control of Tax Agent: First Class Financial Group Pty Ltd - Tax Agent number 20874002
Areas Serviced
3220 Geelong
3215 North Geelong
3218 Geelong West
3212 Lara
3214 Norlane
3331 Bannockburn
3213 Lovely Banks
3321 Inverleigh
3328 Teesdale
3332 Lethbridge
3221 Gnarwarre