MYOB
All First Class Accounts bookkeepers are trained and highly skilled in the use of MYOB software.
Established in 1991, MYOB is now Australia's largest business management software provider. Its 50+ products and services have been employed by more than one million businesses in Australia and New Zealand.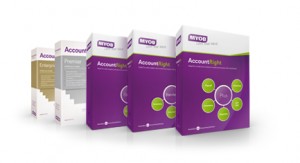 MYOB serves businesses of all ages, types and sizes, delivering solutions that simplify accounting, payroll,myob accountright family auinventory, client management, websites and much more. With a network of more than 20,000 accountants and other professional partners, it provides the support and tools that help make business life easier.
Today, MYOB is extending its solutions online and delivering innovation through cloud computing, enabling clients to make smarter connections with their business partners and customers: http://myob.com.au/smarterconnections.
First Class Accounts bookkeepers are proficient in MYOB accounting software and are able to provide you with the MYOB software itself, MYOB training, MYOB help or general MYOB support.
If you are looking for an MYOB bookkeeper, look no further than First Class Accounts. Contact us today to find a bookkeeper to help you maximise your MYOB bookkeeping. The initial consultation is FREE!