Your local First Class Accounts bookkeeping expert.
We have the latest training in Australia's MYOB and Xero software so you receive the most accurate bookkeeping.
We handpick our expert bookkeepers and train them well so you get the best advice to keep your business running smoothly.
Trusted local professionals backed by support from Australia's largest bookkeeping business.
Improve your relationship with the ATO and employees with our efficient and friendly bookkeeper.
Chelsea Sanginiti – Fremantle
Interest Areas: Accounting Setup, Bookkeeping, BAS & GST, Payroll, Software Training
Languages: English
Chelsea established her First Class Accounts franchise in 2009, with the aim of servicing businesses and organisations in the Fremantle area with exceptional customer service and individualised bookkeeping solutions. Fast forward to 2016 and Chelsea and her team have just been awarded Franchisee of the Year. A brilliant way to recognise a team committed to customer satisfaction and bookkeeping excellence.
At First Class Accounts Fremantle, Chelsea and her team focus on clients, going above and beyond to make sure they're are happy and focussed on what they do best – not worried about their books or debtors or the tax man. That's why they will spend the time getting to know you and your business needs before working out the best plan for you. Bookkeeping is not a one-size-fits-all equation and Chelsea and her team love figuring out what will work best for all their individual clients and they pride themselves on making you feel at ease and confident with your books.
Chelsea and her team also support you through training, always looking for the best way to empower you to make the right decisions to improve your business.
Their aim is to nurture your relationship to become more than just a monthly check-in, they proactively find ways to help you, motivate you and lift you up on your path to success.
Chelsea and her team are the 2016 Franchisee of the Year for a reason. They combine their exceptional bookkeeping skills with the highest standard of customer care. If you're in the Fremantle or greater Fremantle area, give Chelsea and her team a call and see how they can help your business succeed.
Specialist in Bookkeeping services
Weekly, monthly, quarterly and annual accounts
Reporting the earnings of a business by stating all relevant income and all expenses that have been incurred to generate that income.
Reporting all ATO lodgements to keep you ATO compliant.
Such obligations include the need to complete an IAS or BAS, which can be done monthly, quarterly or annually.
EOFY Processes including finalisation of STP
End of financial year processes including reconciliation of accounts and inputting Tax Agent's adjustments
Payroll Services inc PAYG Withholdings, and STP setup
Ensure your staff are paid the correct rates and paid according to the correct hours worked.
End of Payroll year process including STP
Ensuring all your payroll accounts balance and any discrepancies are corrected, prior to lodgement with the ATO.
Management reporting, consolidations and analysis
Key information about the financial state of your business in language you can understand.
Set up and maintenance of accounting systems
Including Inventory & Payroll and keeping all reconciliations up to date.
Software Training
Training and support in all Accounting Software products (MYOB, Reckon, Intuit and Xero) and associated app/addon training
Bank Reconciliation
Maintain all bank accounts, bank feed setup and keep them reconciled.
Cost analysis and controls
Generating profit and loss reports as well as balance sheet to be informed at all times.
Data input manual or automated processes
Making sure all information is entered and bank reconciliations are up to date.
Debt Management
Making sure receivable accounts are monitored and collected on time.
Cash Flow Management
Monitoring income and expenditure to establish your immediate cash flow.
Budgets
Setting up budgets to help you run your business.
Skills
Successfully completed the First Class Accounts Accredited Bookkeeping Training Program
MYOB Certified Consultant
Xero Silver Partner
Reckon Professional Partner
Quickbooks Pro Advisor
Fully registered and authorised to trade as a First Class Accounts professional bookkeeper
Registered BAS Agent with TPB (24693464)
Bachelor of Commerce (Accounting)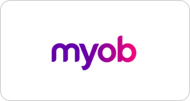 Trusted by Businesses across Australia
I have been working with Chelsea and the team at First Class Accounts for the last 4 years. When Chelsea first took over our books they were a mess, she worked thru them meticulously and had them all sorted for us by the next financial year. This was a huge relief not to mention a refreshing change from previous book keepers. Chelsea is always helpful when I need assistance whether it be by phone or email she always gets back to us in minimal time. I would be happy to recommend this service to any business out there!
Jody Robson
Director Live Fitness
I have worked with Chelsea and her team for a number of years after first asking her to replace a bookkeeper at one of my clients. We have developed an accounting model for businesses which includes setting up budgets and cashflow forecasts as well as management accounting procedures such as monthly (or periodic) accounting analysis and reporting. I commend Chelsea and her team for being able to interpret the information provided by the bookkeeping task and taking it to the next level of analysis and recommendation to business owners and managers.
Peter Della-Marta
Measure Your Business
Serving clients in Fremantle and surrounding areas
6150 Murdoch
6150 Winthrop
6150 Bateman
6154 Myaree
6154 Booragoon
6154 Alfred Cove
6156 Melville
6158 East Fremantle
6160 Fremantle
6162 South Fremantle
6162 Beaconsfield
6162 White Gum Valley
6012 Mosman Park
6159 North Fremantle
6156 Willagee
6157 Palmyra
6156 Attadale
6157 Bicton
Contact us for a free 1 hour initial consultation
Book an appointment using our online system or call us.