Xero
Many First Class Accounts bookkeepers are trained and highly skilled in the use of Xero software.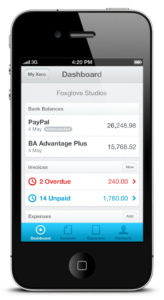 Xero is an online accounting system that utilises cloud technology. All that is required is an Internet connection; Xero accounting software requires no installation, no software and no updating. Small businesses have real time access to their bookkeeping data, which is safely stored in the cloud. There is no need to backup data.
With Xero, you can easily access your accounts from anywhere at anytime. Your bookkeeper or accountant is also able to access your accounts remotely. Xero can be accessed on almost any device including iPhones, iPads or Android mobiles.
The Xero dashboard gives you a real-time view of your business at glance and allows you to easily drill down to view specific data.
If you are looking for a Xero bookkeeper, look no further than First Class Accounts. Contact us today to find the most appropriate bookkeeper to help you with your Xero bookkeeping. The initial consultation is FREE!