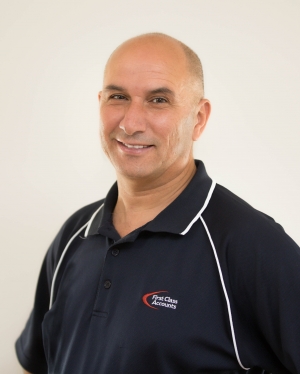 Serge Crismale
First Class Accounts - Picton
Registered BAS agent (no 90018006) with diploma in accounting, setting a course of action and offering customised solutions to clients.
0414 781 520
PO Box 904
Follow Serge on Twitter
Serge's Profile on LinkedIn
As the owner of First Class Accounts, Picton for the last 10 years and an Accountant for over 20 years, I have significant experience in all aspects of accounting and management. I am experienced in Management Accounting and Reporting and I specialise in cloud based account products.
Skills
Serge has a significant experience in Management Accounting and Reporting.
With a keen eye for analysis and accuracy and will not only help you with the basic compliance needs, but will interact with you on a level you will be comfortable with.
Helping you make some of hose difficult business decisions. Serge has been a member of the Institute of Practising Accountants for over 30 years and has Fellow status.
Serge is a Xero Gold Certified Adviser .
His skills cover: Bookkeeping XERO PAYG Payroll Accounts Payable Accounts Receivable Accounting Financial Accounting Reporting Financial Analysis Financial Reporting Cash Flow Small Business Bank Reconciliation Budgets Management Accounting Debtor Daddy Minutedock Sharesight Dearsystems (https://dearsystems.com/) Vend Time billing GST Debt Management Superannuation Software Training
Services
We specialise in cloud based accounts products.
Xero Single Touch Payroll (STP)
Xero (Accounts, Payables, Receivables, GST, Reporting) Debtor Daddy (Debt Management)
Minutedock (Time Billing)
Sharesight (Share Portfolio Management)
Bank reconciliations GST reporting and BAS returns Accounts payable and receivable Weekly, monthly or quarterly accounts management Financial reports and analysis
Debt management
Cash flow management Payroll, payment summaries and superannuation Software training Cash Flow Funding
Areas Serviced
2571 Picton
2572 Thirlmere
2572 Lakesland
2571 Balmoral
2571 Balmoral Village
2571 Buxton
2571 Couridjah
2571 Maldon
2571 Mowbray Park
2571 Razorback
2571 Wilton
2573 Tahmoor
2574 Bargo
2574 Pheasants Nest
2575 Mittagong
2576 Bowral
2577 Mossvale
2578 Bundanoon