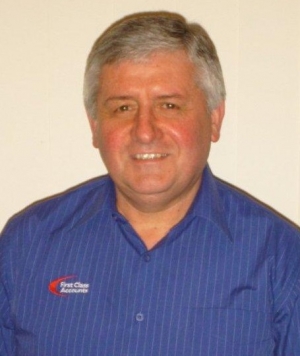 Stephen Espley
First Class Accounts - Salisbury
I love my work... let me show you the value reliable bookkeeping can add to any business!
(08) 8251 4405
0422 727 448
PO Box 1398 Golden Grove Village 5125 SA
Stephen's Profile on LinkedIn
First Class Accounts - Salisbury is a member of Australia's largest professional bookkeeping network serving small to medium business in the northern areas of Adelaide. Our services are both flexible and cost effective and are ideal for business owners who don't have the time or background to handle accounting functions, business owners who work long hours "in" not "on" the business, or imply work long hours and have little time to spend with family and friends. With thirty years of accounting and financial management experience gained in manufacturing, service and retail organisations, Stephen has a wealth of knowledge of accounting processes, business and information systems, reporting and controls. We enjoy our work and understand the value reliable bookkeeping can add to business. Our aim is to assist business owners; meet their BAS, IAS and payroll related reporting deadlines, and make informed decisions by providing timely, accurate and meaningful information; allowing their business to prosper and grow. Stephen has also been trained in the use of MYOB, Reckon (QuickBooks) and Xero accounting software packages and can assist clients with software installation and set up. Other First Class Accounts benefits include; up to date and efficient systems, expert technical support, a wealth of experience from a large network of bookkeeping professionals, an ongoing commitment to training and professional development. We provide friendly, professional and reliable services that are flexible and can be tailored to suit your needs and budget. Work can either be performed at your premises or off site using a range of accounting packages. We'd appreciate the opportunity to meet, discuss your business needs and the range of solutions we offer to help achieve your business objectives. Please call me or send your details by e-mail to arrange a suitable time for a complimentary, no obligation initial consultation.
Skills
Bachelor of Accountancy, University of South Australia
Registered BAS Agent, number 28113005
Services
Bank reconciliations
GST settings and BAS returns
Accounts payable and receivable
Weekly, monthly or quarterly accounts management
Financial reports and analysis
Debt management
Cash flow management
Stock control and inventory
Payroll, payment summaries and superannuation
Software training
Areas Serviced
5112 Elizabeth
5115 Munno Para
5116 Evanston
5117 Angle Vale
5118 Gawler
5120 Virginia
5121 MacDonald Park
5127 Wynn Vale
5114 Smithfield
5108 Salisbury
5108 Paralowie
5109 Brahma Lodge
5110 Bolivar
5110 Burton
5114 One Tree Hill
5106 Salisbury South
5109 Salisbury
5111 Edinburgh
5112 Hillbank
5113 Elizabeth
5113 Davoren Park
5114 Andrews Farm
5114 Blakeview
5114 Craigmore
5125 Golden Grove
5125 Greenwith
5126 Fairview Park
5126 Surrey Downs