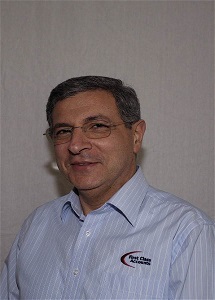 Hilmi Dabbagh
First Class Accounts - Frenchs Forest
Registered BAS Agent no. 91090002 with more than 20 years experience in accounts. MYOB, Quickbooks Online & Xero certified consultant. Netsuite experienced user.
0403 841 000
Frenchs Forest 2086 NSW
Hilmi's academic knowledge has been enhanced by a wealth of experience in private, public and international organizations both in Australia and overseas.
In an early stage of his life, Hilmi had his own small businesses himself, including a consultancy business and property investment ventures.
Within the scope of Hilmis previous career positions, he had to understand in detail all industries in the economy which gave him a wide perspective on the peculiarities of each industry.
Hilmi has also worked in quality assurance and control management position in the biggest marketing company in Asia-Pacific.
If your business is not big enough to hire a full time financial controller, Hilmi would be the person you need to have an accounting system that gives you accurate information about your business performance and how to move it forward.
Hilmi is a strong believer in a positive attitude, as a pre-requisite for the success of any business and practices this belief himself. It wont take you long to feel that whatever problem you have, you will find Hilmi a good person to talk to.
Skills
Hilmi Holds a Masters in Business Administration which gives him a very strong theoretical business background.
Budgeting, performance against budgets and cashflow statements.
Analyse management reports.
Sort out complex inventory & payroll issues.
High organisational skills- can provide advice on digital or hard copy filing systems.
And above all Hilmi cares!
Services
Analyse and evaluate the current status of accounts.
New setups on MYOB, QuickBooks, Xero and Reckon.
Provide training for users of these software.
Provide BAS compliance services & lodge with the ATO.
Tailored service as per the need of the business.
"

Hilmi, we are most appreciative of three aspects of your contribution: a) your knowledge of MYOB, b) your accounting and bookkeeping skills, and c) your dedication and application in sorting out a mess and doing it in a compressed timeframe.

"

The Painted Image Pty Ltd

"

It is a pleasure to work with someone that has both accounting and business knowledge, and also has their clients well-being at heart. The accounting and business advice that you provide to your clients is great, and having talked with those who we share working with, I know for a fact that they appreciate that your role is far more than bookkeeping, in a way that helps them run their business much more successfully. From an accounting perspective the accounting records that you provide to our office are well prepared and presented and make our role much easier. I look forward to continuing working with you in the future.

"

TT Australia, Accountants & Business Advisors

"

Hilmi is a very warm person with an excellent knowledge of accounting procedures. He is a man of high integrity and very reliable. He helped us out for several.months whilst a staff member was on maternity leave. We were very pleased with the work he did. David Sullivan. Executive Officer.

"
Areas Serviced
2100 Brookvale
2093 Balgowlah
2082 Seaforth
2086 Frenchs Forest
2085 Belrose
2100 Beacon Hill
2087 Forestville
2084 Terrey Hills