First Class Financial Group is pleased to announce that another member of our network is a winner at the Excellence in Franchising Awards held around Australia.
At a luncheon in Melbourne on Thursday 21st August 2015, Trish Jones of First Class Accounts Craigieburn was announced as the VIC/TAS Single-Unit Franchisee of the Year (2 staff or less).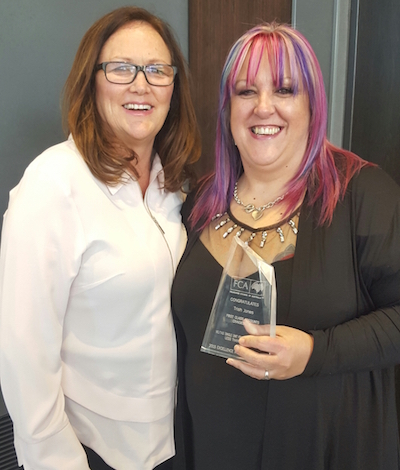 The award came as a wonderful surprise for Trish, who had no experience running her own business when she left her career as a management accountant to become a First Class Accounts franchisee in 2010. Trish hit the ground running winning Best Emerging Franchisee and Brand Ambassador Awards within her first 12 months.
Upon receiving her award, Trish was quick to pay tribute to her peers "First Class Accounts are so supportive and have been a major factor in my success so far. From National Office to every franchisee I have contact with, I always learn something and I feel very honoured to be part of the FCA family and share my rewards and promote how a proven system and great support can help us all."
Trish is well known within our network as an advocate for networking and modern marketing methods. Trish joins Parul Mehta, First Class Accounts Sunnybank Hills as the QLD/NT winner for Single-Unit Franchisee of the Year and Debbie Stanton as the Field Manager of the Year for QLD/NT.
Debbie has worked very closely with Trish over her 5 years with First Class Accounts, commenting that "working with Trish has been an absolute pleasure. Trish is truly an excellent franchisee and I can't think of a more deserving recipient of this award."
First Class Financial Group Executive Chairman Clive Barrett added "Trish has proven herself to be a valuable asset to both the First Class Brand as well as to all her clients. She's a worthy winner of this award and it's overdue recognition of her outstanding work."
Trish has now qualified as a finalist at the MYOB FCA National Excellence in Franchising Awards, to be held on the Gold Coast on October 13th 2015. First Class Accounts will be represented by 3 finalists, which is a testament to the strength of our network and the exceptional franchisees we have within our system.
Congratulations Trish and good luck for the national awards!