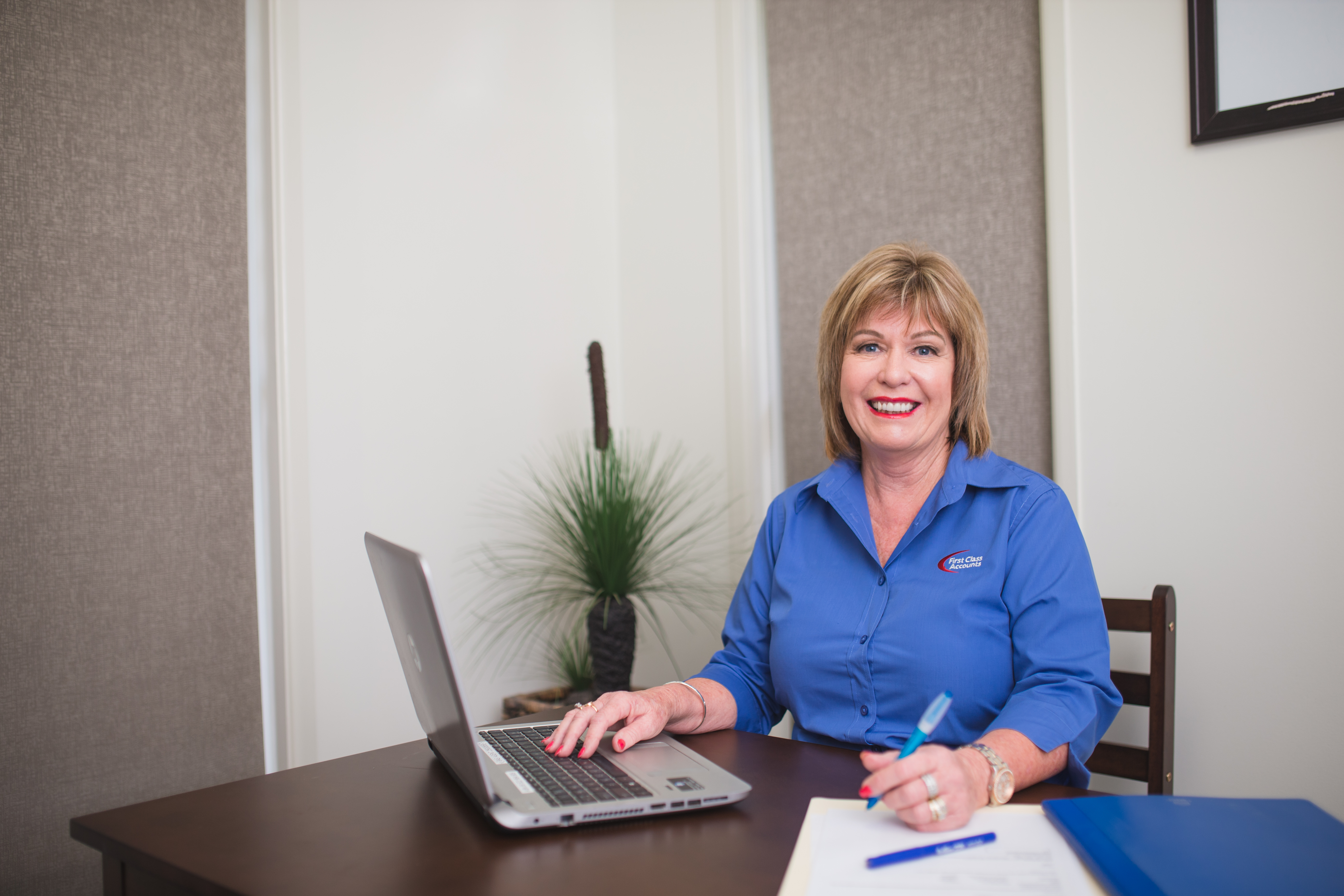 If you're bookkeeping curious, then you're certainly in the right place. First Class Accounts has over 250 bookkeepers all around Australia, and their franchise network continues to grow. So what is it exactly that bookkeepers do? We chatted to Nerida Pokarier, whose clients' consider her essential to their businesses and asked, what does a bookkeeper do…?
FCA: Hi Nerida! A bookkeeper can be something of an enigma to many small business owners, so can you tell us, what is it that you do?
Nerida: Well, I take peoples books – so everything from their incoming and outgoing expenditures, their payroll, their accounts payable and receivable, their profit & loss statements, their invoicing, their BAS – and I basically, make it all run smoothly!
You see, people are often really intimidated or apprehensive when it comes to what they should be doing with their books. As a bookkeeper, I am trained in everything from technical processes, different accounting software packages, compliance for tax, and business legislation. Our qualifications are updated regularly, and we keep up-to-date with any changes to legislation or software updates. I perform these tasks all day every day, so I have much more of an insight into how things should run, and how a business can improve their processes, which can improve cash flow and efficiency.
Beyond that though, I help my clients understand their business, I take away that uncertainty and worry, and replace it with a clear understanding and give them the confidence they need to run their business successfully.
FCA: So what does a bookkeeper do for a small business on a daily basis?
Nerida: Well that depends on the business. With some clients, you can touch base with weekly, for things like payroll. Others I might have monthly catch-ups to run through any number of things like payments, reconciliations, updating employment awards (pay rates, not job well-done awards!) and BAS preparation. Often people meet with their accountants once a year, so we can help prepare for those meetings, and we can help implement the accountant's advice. I also help to train my clients on aspects of bookkeeping they might want to do themselves, or I might help change over their accounting software systems. There is a huge variety in my role – it's not just balancing spreadsheets and entering invoices into Xero or MYOB!
FCA: What would you say is the biggest thing people don't realise you do?
Nerida: Well, I don't think people realise what a support we can be to their business. If someone has been doing their books themselves, and they get into a bit of a pickle, or they don't have enough time to grow their enterprise, as well as do payroll run or lodge BAS, then we are here to help and alleviate them from those tasks. Beyond that, the key to a successful business is to know your numbers. That way you are always prepared, and you can alter your business plans whenever you need to. We help get you across these numbers, we focus on things most small businesses owners don't even know they should be keeping track of, and we help them figure out what their next move should be.
FCA: It sounds like you're a small business genie!
Nerida: Well yes! I often think of myself as a professional friend to my clients' businesses. I am here to support them and understand their goals or difficulties and help them through. You become part of the family so to speak, and you help improve their business. My clients always say they feel so much better once I have been in because I make the 'scary' world of numbers and compliance easy to understand. We can be a sounding board for ideas, offer scenarios on what might work better, we can help you avoid the stress of late payments – or not having sufficient cash flow. We understand the ins and outs – and the pressure – of running an SME, and nothing makes us happier than a content client with a thriving business (and a balanced spreadsheet – it's true, we do love those!)

FCA: So what do you say to small business owners who are on the fence about getting in a bookkeeper?
Nerida: You have nothing to lose – except your business. Why struggle through the stress and uncertainty yourself? You can't be an expert in everything. Sometimes it's best to let those that understand and have a passion for bookkeeping take care of it. We are trained in all aspects of bookkeeping, from compliance and process to policy and legislation, and it is our job to implement that in your business. Don't be afraid to ask for help, and don't be scared to give yourself the time to work ON your business. It's our job to work with the books, which means you're free to focus on what's important to you.
Thanks so much for your time Nerida! If you'd like to chat with a bookkeeper in your local area, click here to find your nearest First Class Accounts bookkeeper.