First Class Financial Group has had tremendous success at the various Franchise Council of Australia Excellence in Franchising Awards held Australia wide. On Friday 28 August 2015, the final state event was held in Adelaide.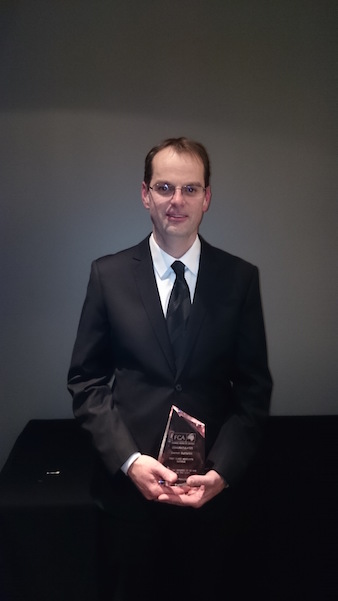 There was tough competition at the awards for South Australia, with top honours for Single Unit Franchisee of the Year going to First Class Accounts member Darren Butterick. Darren was the 3rd Single Unit state winner for First Class Accounts.
Darren said "It was a whirl wind night and the win was a fantastic surprise. I appreciate the support from First Class Accounts, the other First Class Franchisees and all my clients."
Possessing a Bachelor's degree in Commerce, Darren has more than 23 years of corporate experience, where a substantial portion of Darren's career had been spent working in government offices through finance, budgeting, payroll and human resources.
First Class Accounts General Manager Debbie Stanton said "Darren is a franchisee that gets down and gets things done. He has desire and passion, and always follows the First Class Accounts System, Darren is a great supporter of the brand and worthy recipient of the award, congratulations Darren."
Motivated by the desire to own his own business, Darren naturally understood the needs of businesses. Darren's professional empathy allowed him to apply his key strengths and work experience in finance, to play a key role in the success he has found today.
First Class Financial Group Executive Chairman Clive Barrett said "Darren is testament to the success one can enjoy by following the First Class Accounts system. We're extremely proud of what he's achieved as a business owner and as a role model for the First Class Brand."
Darren shares his skills and knowledge and helps build a strong nation-wide link that will continue lifting the quality of our industry. Consequently it is these very principles that has delivered Darren's award and recognition.
First Class Accounts will now be represented by 4 finalists Darren Butterick, Debbie Stanton, Parul Mehta and Trish Jones at the MYOB FCA National Excellence in Franchising Awards, to be held on the Gold Coast on October 13th 2015.
Congratulations Darren and good luck for the national awards!