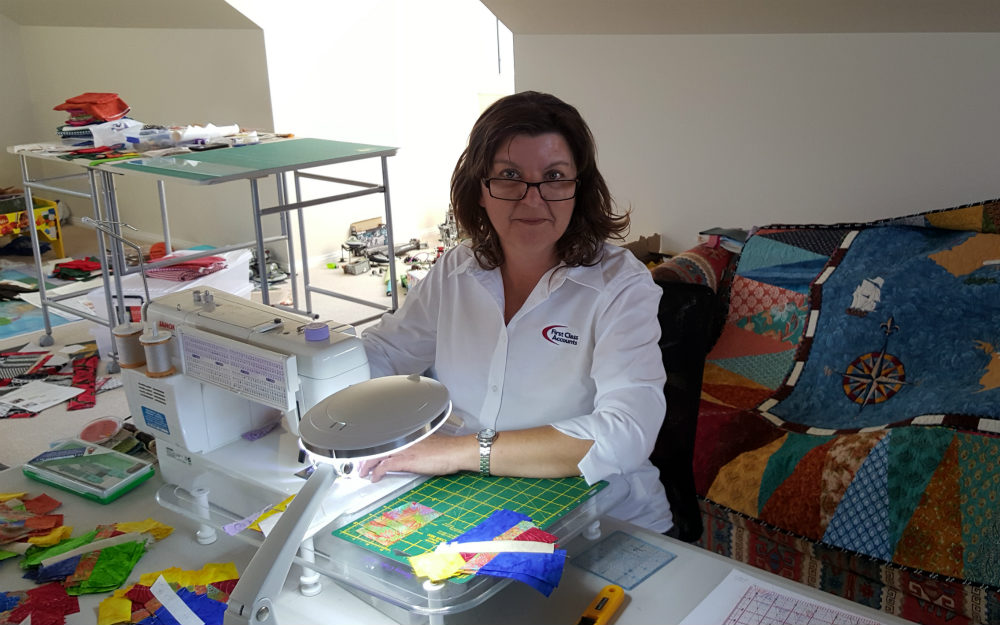 How can the hobby of turning tiny pieces of fabric into warm works of art help solve businesses financial problems? Veteran quilter and First Class Accounts bookkeeper, Leanne Noske, says the skills used to make beautiful bedspreads are the same ones she uses to help her clients' ventures thrive. We sat down to find out how sewing can lead to success.
You've had an interesting life, tell us a bit about that?
I was born in Papua New Guinea before moving to Adelaide to start school. As a teenager, I dreamt of being a fashion designer and started my career in the clothing industry. However, changes to tariffs and cheap imports started to cripple Australian textile manufacturing. When I was made redundant for the eighth time I realised something needed to change. I was drawn to studying accounting as a way of understanding why my former employers' businesses kept failing. While I'd done maths in high school, I learned I was also very good with numbers at university. I then went on to work in audit and financial accounting before opening my own bookkeeping franchise in 2016.
You're a skilled quilter, how did you get into this hobby?
About 15 years ago I was looking for a side project and stumbled across a book on Moroccan mosaics. I was stunned by the beautiful Moorish patterns and thought, "If you can create art with tiles, then you can do the same with fabric". So, I bought some material, cut out hundreds of little squares and started my first quilt. It was a disaster! However, after putting quilting in the 'too hard' basket for a while I picked up a few guides and gave it another go. When I finally worked out how everything fitted together I was stoked, and I've been quilting ever since.
How does your hobby help your work as a bookkeeper?
Quilting and bookkeeping are similar in many ways because they're about using numbers and abstract thinking to solve problems and create something to be proud of. A quilt starts as an idea and a bit of a mess. It only comes together when I use my mathematical skills to figure out how to make sense of it and make it beautiful. It's the same philosophy and set of skills I use when I'm untangling my clients' financial challenges and getting their businesses back on track. For me, quilting and small business problems aren't stressful because they're like puzzles and I get a lot of satisfaction when I solve them.
What do you find inspiring about quilting?
It's a hobby that helps me see the world through a more creative lens. I can be walking down the street and a pattern or design might catch my eye and spark an idea for a quilt and it always fills me with excitement. Also, when I'm in the zone of working out how to bring my vision to life it's as though the world outside ceases to exist. I think it's very important for everyone to find activities that give them space to recharge, and that's quilting for me.
Have you ever taken part in competitions?
I'd describe myself as a 'closet quilter' because I'm quite shy and prefer to just go about my craft quietly. However, earlier this year I decided to submit one of my works into the world-famous Houston International Quilt Show. For me, this represents a big step in busting out of my shell and being proud to showcase my talents and abilities. So, I was absolutely thrilled when I recently discovered that my quilt has been accepted to display at the show! I'm now planning on packing my bags and heading to Texas soon.
How has quilting helped you as a professional?
It's allowed me to have better discussions when I'm networking. Conversations that only involve bookkeeping sometimes tend to fizzle out quite quickly, whereas quilting sparks greater interest. Talking about a subject I'm passionate about certainly gives me more confidence, and I think that creates a good impression. While I haven't won any clients through quilting (yet), I think it's helping me lay the foundations for professional relationships that will convert in time.
Leanne Noske is a First Class Accounts bookkeeper who brings years of experience and acumen to small business owners. Leanne prides herself on driving profitability through attention to detail and big picture thinking.
This feature was originally published on Xero's blog: https://www.xero.com/blog/2017/07/secret-life-bookkeepers-leanne-noske-quilting-business-sense/