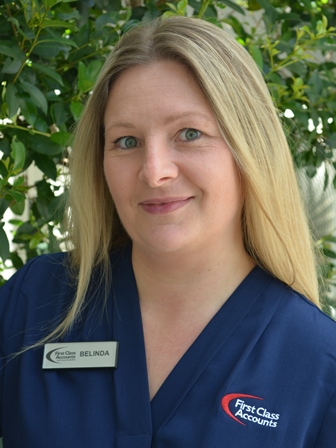 Belinda Parsons
First Class Accounts - Shellharbour
First Class Accounts - Shellharbour offers Business Bookkeeping and NDIS Plan Managemnet you can count on.
0451 855 430
PO Box 356
Albion Park NSW 2527
Belinda's Profile on LinkedIn
Small business ownership is tough enough without having to worry yourself with areas that aren't your strong suit. That's why Belinda is passionate about using her knowledge to ease your bookkeeping burden.
Belinda thrives in a busy work environment. Not one to keep still, Belinda uses her extensive business administration skills to continually look for ways to improve and help her clients to automate and streamline their business processes saving them time and money. She is always looking for the next challenge and focusing on her professional development is a critical factor in her own small business. She understands every SME - and industry - is unique, and she prides herself on getting to know businesses individually, understanding the complexities of each situation and providing insights into how each of her clients' businesses can perform at its peak.
As a NDIS Plan Manager Belinda can take the stress and confusion out of your NDIS plan for you and your family. Opting to be planed managed gives you the freedom of choice and control allowing you to use registered service providers and non-registered service providers. Belinda can give you independent advice and be completely open with you in tracking your budget, liaising with service providers and paying your invoices all while staying compliant with the NDIS.
Belinda has extensive experience in accounts payable and receivable, bank reconciliations, BAS preparation, invoicing, payroll, PAYG Superannuation, Single Touch Payroll and NDIS plan management. Her ability to deliver results is second to none, and her warm nature and friendly disposition have gained her long-term clients and a real sense of family and community with her clients and colleagues.
Whatever your needs, Belinda's experience, good humour and strong work ethic, will have a positive influence on your business.
Skills
First Class Accounts Accredited Bookkeeping Training Program
Registered NDIS Provider
Certificate IV an Accounting and Bookkeeping
Fully Trained in accounting software MYOB, Xero, Reckon and QuickBooks.
Fully registered and authorised to trade as a First Class Accounts professional bookkeeper
Member of the Australian Bookkeepers Network
Services
NDIS Plan Management
Accounts Payable and Receivable
Bank Reconciliations
Debt management
Financial reports and analysis
Payroll, payment summaries, superannuation & Single touch payroll
Stock control and inventory management
Software sales and training
Weekly, monthly, quarterly accounts management
Cash Flow Management
I work under the supervision and control of Tax agent: First Class Financial Group Pty Ltd - Tax Agent number 2087 4002
Areas Serviced
2506 Berkeley
2506 Berkeley
2506 Berkeley
2506 Berkeley
2506 Berkeley
2506 Berkeley
2506 Berkeley
2506 Berkeley
2506 Berkeley
2506 Berkeley
2506 Berkeley
2506 Berkeley