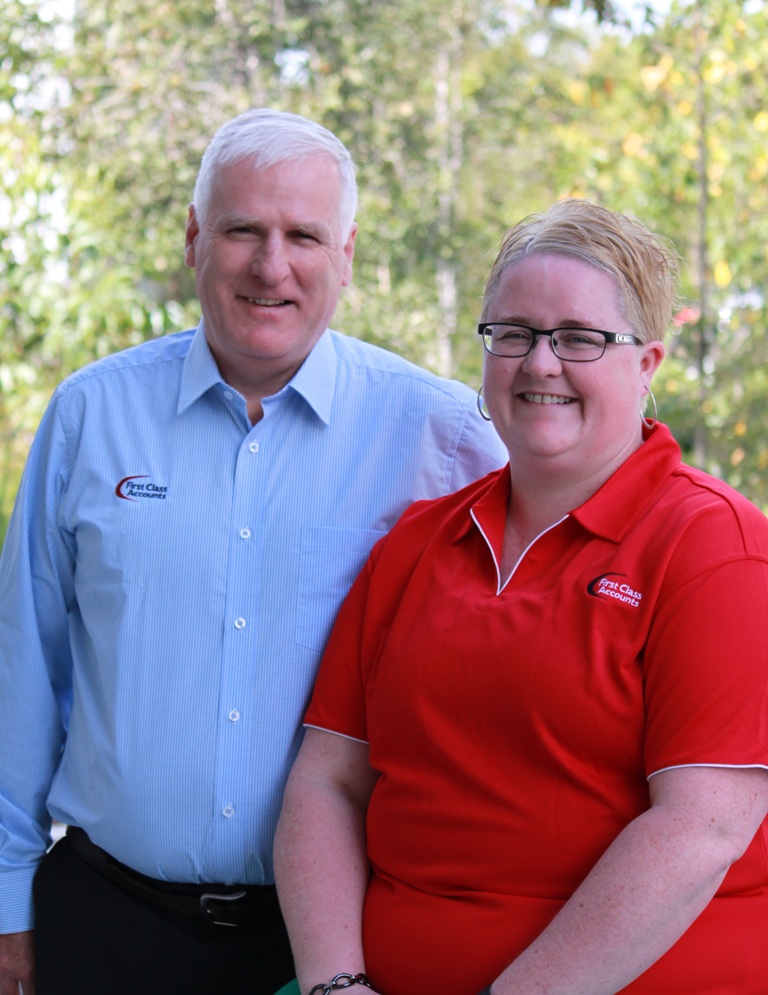 Eamon Rogers
First Class Accounts - Wanneroo
Your business's success is our goal. We provide the best bookkeeping so you can grow the best business.
0432 790 229 / 0432 014 450
PO Box 196
Kingsway WA 6065
Follow Eamon on Twitter
Eamon's Profile on LinkedIn
With the backing of First Class Accounts, Australia's largest bookkeeping franchise, Niamh and Eamon bring a full range of bookkeeping services to Wanneroo and surrounding areas. This father and daughter team bring a wealth of experience in client management and financial services, gained through more than 27 years of professional growth, that allow them to offer exceptional bookkeeping services with a strong focus on customer satisfaction.
Eamon and Niamh are dedicated to the success and prosperity of their clients' businesses. To this end, they offer a great deal of flexibility in regard to their services. Through offering after-hours appointments, they are able to work around the busy working lives of their clients. They are also able to work both onsite or remotely, allowing their clients the freedom to concentrate on running their businesses.
With an extensive history in financial services, Niamh and Eamon are able to work with clients of any size, across a range of industries. Their experience allows them to integrate accounting software packages that are pertinent to any business, and are comfortable using a variety of new and existing technologies designed to streamline both their services, and the financial aspects of their clients' businesses.
To find out how Eamon and Niamh can help your business thrive, contact them no for a free, no obligation assessment.
Skills
Successfully completed the First Class Accounts Accredited Training Program incorporating Cert IV in Finance (Bookkeeping)
Fully trained in accounting software such as MYOB, Xero, Reckon and QBO
Fully registered and authorised to trade as a First Class Accounts professional bookkeeper
Member of the Association of Accounting Technicians Australia
CPA qualified accountant
Registered BAS Agent - 2554 0662
Services
Bank reconciliation
Accounts payable and receivable
Weekly, monthly or quarterly accounts management
Financial reports and analysis
Cash flow management
Stock control and inventory
Software training
BAS Preparation and Lodgement
GST settings and BAS returns
Debt management
Cash flow management
Payroll, payment summaries and superannuation
"

Niamh has been so helpful from the moment I made first contact. I never realised just how clueless I was when it came to book keeping! Thank you for helping me sort out of accounts. You won't regret making the decision to utilise First Class Accounts.

"

Jaye Marie Makeup and Beauty

"

They are just the best. Friendly and happy to help whenever they can and always get back to you as soon as possible for them. Fab guys your the best ????

"

"

Niamh goes over and beyond! She has dedicated hours and hours of hard work getting me out my my rut and into a systematic order for my business. I feel relieved and stress free knowing that all my accounts are taken care of with the most care. Seriously, paperwork is not working on your business marketing wise, give the job over to someone who thoroughly enjoys this!!!

"

Creme de le Creme Australia

"

Great team at First Class with massive knowledge and experience to support all the good things they provide.

"

"

Niamh goes above and beyond. Had a great training session on Quickbooks yesterday and feeling confident now. If you are looking for peace of mind in your business definitely give niamh a call

"

"

I felt very comfortable with First Class Accounts from the initial meeting and left Niamh all paperwork while I went away on holidays. By the time I returned everything was set up from scratch and the bulk of the work was done. So easy!

"
Areas Serviced
6065 Wanneroo
6030 Quinns Rock
6031 Carramar
6035 Yanchep
6036 Butler
6077 Gnangara
6078 Mariginiup
6037 Two Rocks
6034 Eglinton
6032 Nowergup
6033 Carabooda
6038 Alkimos
6065 Landsdale
6065 Darch