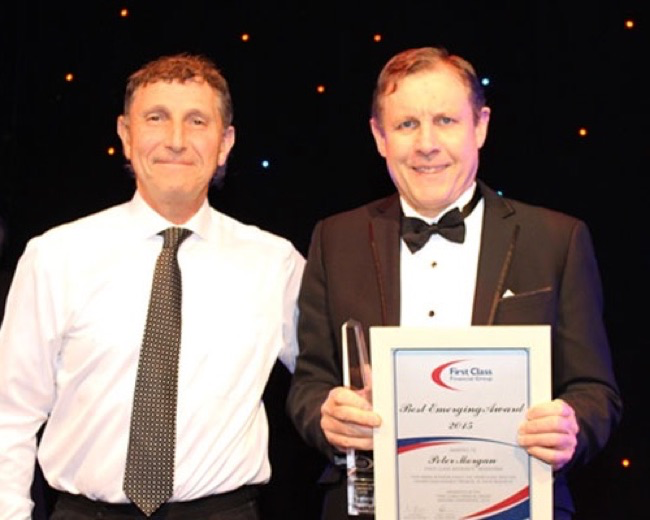 Pictured: Clive Barrett, Executive Chairman First Class Accounts and Peter Morgan
Peter Morgan, our franchisee from Moorooka in Brisbane, came to bookkeeping later in life. Recently, Peter talked to us about his career change, and about how First Class Accounts has helped him achieve success.
"After more than 30 years as a mechanical engineer, I had reached a point in my career where, in my mid 50s, I was no longer being seriously considered for the engineering roles I was qualified for."

"After working in some very unsatisfying jobs at that time, I came to the conclusion that I didn't want to work for other people anymore, either, and decided it was time to change careers. I've always enjoyed working with numbers, and had previous experience as treasurer in a number of social and sporting groups, so felt that the natural step forward was into a career in bookkeeping."

"So, I struck out on my own, firstly attaining a Certificate IV in Bookkeeping, and then working on building my client base. I was certainly successful in gaining my certificate, but, unfortunately, was markedly less so in gaining clients. During my time as a sole trading bookkeeper, I had no clients whatsoever!"

"Around that time, I saw a First Class Accounts advertisement on TV, and was struck by the benefits that being a franchisee offers. I was particularly taken with the brand credibility, technical expertise, and backup that is associated with First Class Accounts. I could see why a client would be more inclined to sign with Peter Morgan from First Class Accounts, than Peter Morgan, sole trader with no bookkeeping experience."

"I admit that starting a new business later in life was daunting, and sometimes difficult, but I tackled the challenge head on. I'm now at a point where I am essentially working full time again, and I might even require a second set of hands on board in the very near future!"

"Right now, I'm in the last stages of my working life. Having said that, I'm definitely not ready to retire yet, and I feel like owning my own business has given me control over my own destiny. I now have the power to decide how big I want to grow my business, and I can decide how many days I want to work each week. My plan, as I get older, is to gradually cut back on my work days each week, while conversely increasing my golfing days!"
So, whether, like Peter, you're a baby boomer looking for that work/life balance, or are just starting out in your bookkeeping career, First Class Accounts provides an exceptional foundation for the growth of your business.