First Class Accounts is pleased to announce that Donald Doolan of First Class Accounts Asquith is our 2015 Franchisee of the Year. Don was declared the winner at the annual First Class Financial Group conference, held in Uluru.
Don joined First Class Accounts in 2012 and very quickly established himself as an endeared member of our network largely due to his loud voice and even louder dress sense. Whether it be in his capacity as a mentor for new franchisees or as a participant in franchise wide training, Don is always willing to lend a helping hand to his peers.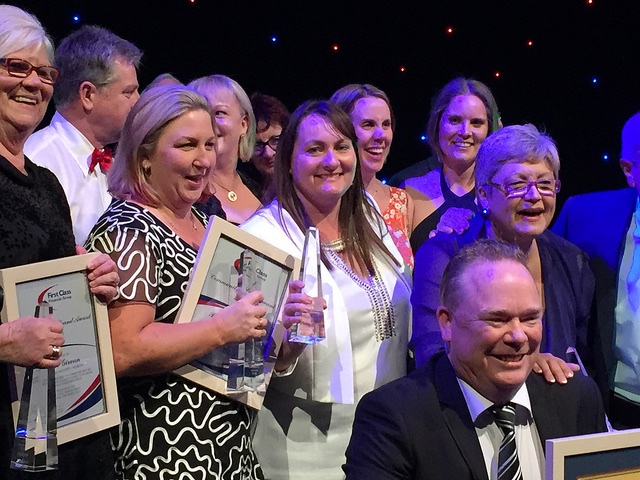 Don was quick to pay tribute to the support from the team at National Office, his fellow franchisees and most importantly his wife Jo. In typical Don fashion, he used his own success as an opportunity to inspire his peers "When you believe in a higher cause other than your own, you realise, that as individuals we can create a team and make a difference. That is what First Class Accounts is to me. Dare to dream and don't be scared to dream big! Then set those goals and go about attaining your dream.  And when you get there, you will get there, take some time and enjoy it all."
First Class Accounts General Manager, Debrah Stanton, commented "We are very proud of Don, he is everything the Franchisee of the Year stands for. He embodies the First Class Accounts brand, has a strong business acumen and is a leader and supporter for the entire network. I personally love working with him."
Clive Barrett, First Class Financial Group Executive Chairman, added "Don is a worthy winner of the prestigious Franchisee of the Year award and is the consummate ambassador for the First Class Accounts Brand. Well respected by his peers and clients, he's also a highly regarded mentor to many of our newly established franchisees. Don has built a highly successful business through skill and commitment, something he should be immensely proud of."
Don wasn't the only award winner on the night, congratulations are in order for the following franchisees:
Service to the Brand
Runner Up – Norma Reynaga First Class Accounts – Currambine
Winner – Carol Girvan First Class Accounts – Vermont
Community Service
Runner UP – Michelle Timperley First Class Accounts – Maroochy Central
Winner – Renae Pitargue First Class Accounts – Ovens Murray
Best Emerging Franchisee
Runner-up – Vanessa & Tony Malcolm First Class Accounts – Surfers Paradise
Winner – Peter Morgan First Class Accounts – Moorooka
Brand Ambassador
Runner Up – Hank Middleton First Class Accounts – Aberfoyle Park
Winner – Victoria Wilkinson First Class Accounts – Annerley
Business Performance
Runner Up – Neil Hodgson First Class Accounts – Ballajura
Winner – Hilmi Dabbagh, First Class Accounts – Frenchs Forest
Franchisee of the Year
Runner up – Chelsea Sanginiti First Class Accounts – Fremantle
Winner – Donald Doolan  First Class Accounts – Asquith
Once again, congratulations to all our award winners and our entire network for their work over the past 12 months. It's our franchisees that really make us first class!