Hank Middleton decided to join First Class Accounts (FCA) in 2003. We're glad he did because he's been a model franchisee and a huge asset to our company ever since.
Hank was a trailblazer in South Australian by helping us establish a presence there as our very first FCA franchisee in the State. And over the past 15 years he's built a reputation among his long-standing clients, and colleagues, as one of the most honest, hard-working and decent bookkeepers you could ever meet. So, it was with great sadness when Hank told us about his decision to leave our franchise at the end of February 2018 to focus on his health — a decision we wholeheartedly support.
We're going to miss Hank enormously and it's fair to say his departure will leave a big hole in our company. However, we'd like to send him out on a high by celebrating his business journey and achievements along the way. So, we caught up with our General Manager Deb Stanton, and some of his clients, to see why they think he's a total legend. And we spoke to Hank himself to see what he had to say before he closed the books with us.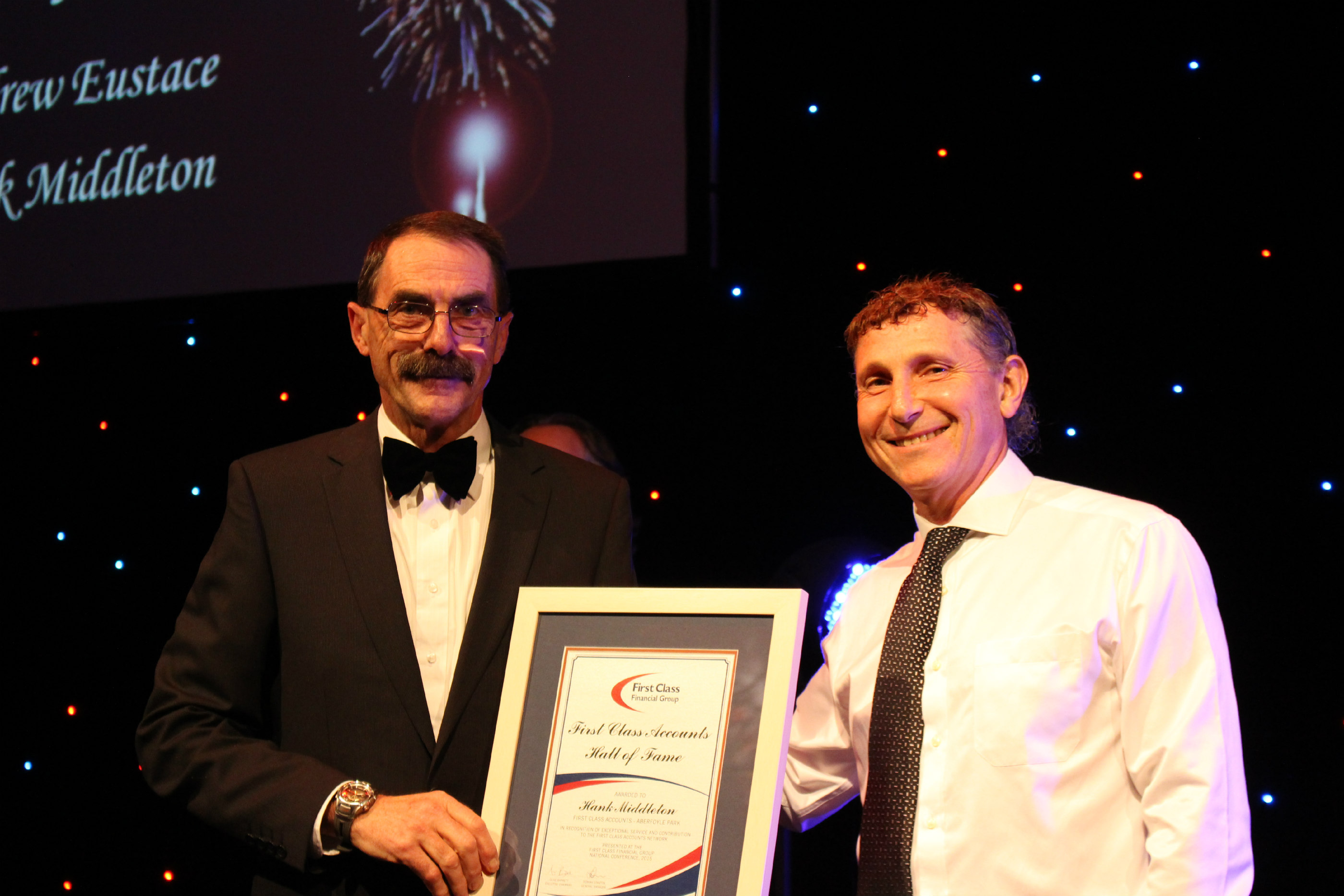 Deb Stanton, General Manager, First Class Accounts
What were your first impressions of Hank when you met him?
I was immediately struck by his positive attitude, kind heart, and passion for his business and family. Starting a new venture and being the first franchisee in South Australia wasn't easy but the challenges never fazed Hank. He flew to Melbourne for every monthly training meeting and was a fantastic contributor from the get-go.
What is it that sets Hank apart as an exemplary franchisee?
He is a first class bookkeeper in every sense of the word. His attitude, motivation, integrity, business acumen, and dedication to the First Class Accounts brand are second to none.
Nothing is ever too much trouble for Hank and he always found time to invest in people. For example, without fail, Hank would introduce himself to new franchisees and make sure he spoke to all the other franchisee at every annual conference we held. His friendly nature and genuine interest in their business and life surprised many franchisees (in a good way) and is something they still talk about today. However, I think what really sets him apart is that fact that despite being unwell, Hank is committed to servicing his clients up until the day he leaves. For me, this kind of commitment speaks volumes about the calibre of man he is.
Why was Hank inducted into First Class Account's 'Hall of Fame' in 2015?
This award is only open to franchisees who have been in the network for over ten years and have made an outstanding contribution to the company. For over 15 years Hank has achieved success through sound business ethics, leadership, and integrity, and it's why he's earned such respect among his clients, peers, and everyone here at head office. So, in 2015 we were delighted to award Hank with this award because he truly deserved it.  
Why is Hank so loved and respected among his peers and clients?
It's simple, he's an exceptional franchisee, fantastic bookkeeper, and most importantly a first class bloke. He'll be a sorely missed franchiesee but we're delighted he's focusing on spending time with his loved ones and doing the things that make him happy. We're 100 percent behind him and are gunning for him to get well.
What Hank's clients had to say about him
Peter Killey. Former T-Bar business owner.
"Hank has been with us from when we opened our business in 2004 right up until its recent sale, and he has been a rock throughout. Over years Hank has grown to be so much more than just our bookkeeper — he has become a trusted confidante. Whenever things were tough, Hank was always there with empathy and solid advice. We know the old fashioned values of trust, respect, and integrity are not always evident in today's world but Hank lives by them every day. It's been a privilege to work with Hank and we shall always be grateful for his dedication to our business and for his friendship"
Cindy Scrivener-Westphalen. Founder of Cindy's Classic Gourmet.
"Hank has been helping me with the books for over ten years, though I've known him for much longer through personal connection. Initially I was a bit nervous about hiring him because business and friendship don't always mix. However, Hank instantly fitted in and became a very important part of my business. Hank is as honest as the day is long, and knowing I could totally trust him with my finances and livelihood has given me the peace of mind and confidence I needed to grow my business. Thank-you Hank, you're a superstar."
Kate Hodgson. State Manager at Dental Projects Adelaide.
"Hank is a true professional and his detailed understanding of the building industry meant we always felt confident he had all our tax and financial paperwork in order. He's a dab hand at MYOB and worked really well with our accountant — all of which meant we had the reports needed to make good business decisions and knew our business was in good financial shape. However, it's Hank's gentle nature and his willingness to go above and beyond that really set him apart in our eyes."
A few words from Hank himself
"I would like to thank everyone for their friendship and support during my time at FCA. When I started, I remember someone once saying to me: "running a bookkeeping business would be pretty ordinary". How wrong they were because I got to work with such great clients and wonderful colleagues every single day. We've shared a lot over the years, and I'm really going to miss the friendships we've built. A special mention must go to Deb Stanton and the team at Head Office. Providing financial support over the last four months, and offering unlimited professional and emotional support has made a challenging situation much easier for me and family — thank you. I've had a brilliant time growing my business with you and I hope to keep in touch in the future. Take care and all the best, Hank."