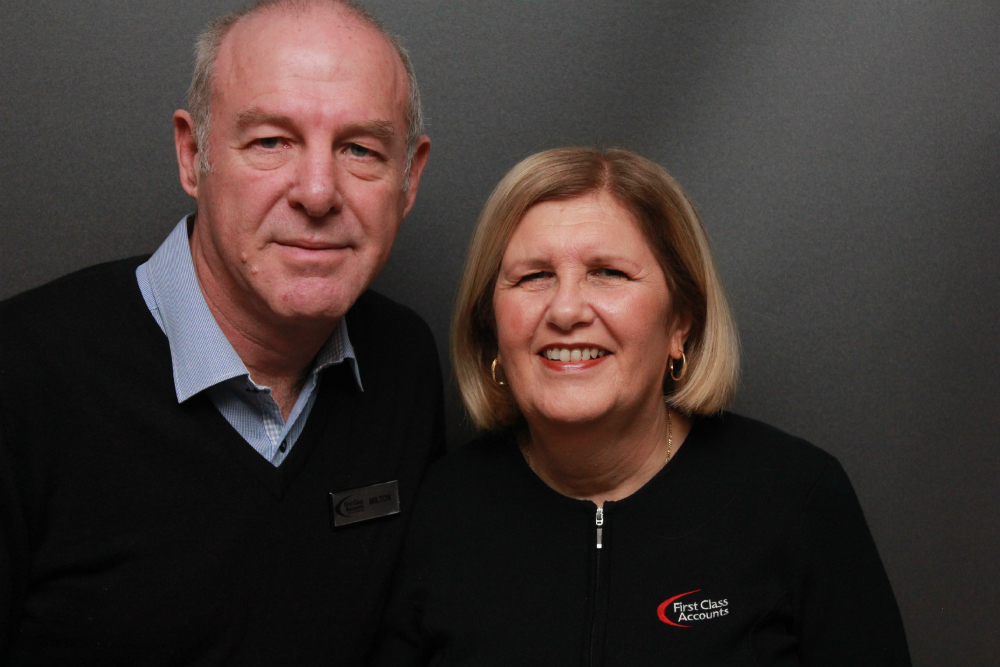 Back in 2015, a streak of bad luck forced Milton and Nadia Young to take stock of life and figure out their future. They wanted work that would utilise their professional experience, fit around their busy family life, and offer a supportive environment in which they could thrive. After searching for something suitable online, they found that First Class Accounts ticked all the boxes. Today, they're hitting their financial goals and have been awarded 'Emerging Franchise of the Year'. We caught up with them to see how their fortunes have turned around.
What motivated you to become a franchise?
Milton:  My parents were both diagnosed with the onset of Alzheimer's in 2015, and my Dad had cancer. Mum couldn't cope with the situation. So, Nadia and I had to travel to Queensland where they lived on their own and brought them back to a nearby retirement home. Two months later we had a fire at our house, and shortly afterwards Dad passed away. I then discovered I had prostate cancer. All this happened within six months! At the time, I was working as a business banker and when I asked my employer for extra support, their callous behaviour made me realise I needed a change.
So, what was it about First Class Accounts that made you sign up?
Nadia: I got a good feeling from First Class Accounts and on further investigation was proved right. Everyone we spoke to was smart, passionate and professional — it made us feel like we were joining a family.
Milton: Combined, Nadia and I have over half a century of career experience in finance, banking, and bookkeeping, so we felt confident that we could put this to good use and offer clients exceptional service. Also, we were both very excited about the chance to work directly with clients and help them succeed. And finally, we felt First Class Accounts offered the support and structure to help us build a successful small business that gave us flexibility and scope to grow it as we wanted.
How useful was FCA's three-month long 'Kick-Start' training program?
Milton: As an experienced and qualified banker and CPA, it built on what I already knew. While I'm very comfortable interpreting financial reports, I found the training on how to build them in various software systems beneficial. Learning about the ins and outs of different business administration systems, and how to prepare and lodge the financial reports was also invaluable. And finally, the advice we received about the bookkeeping world and how to market ourselves made us feel like we could hit the ground running. I've done several courses over my career, and this was up there with the best of them.
Nadia: The training brought my bookkeeping and accounting skills up to date. I learned how to get the most out of modern cloud accounting software and gained a lot of confidence about how to network effectively to win new clients. It pushed me out of my comfort zone, and by the end of the program, I felt prepared to start our business.
What were the early days like?
Milton: It's always hard starting from scratch and building a name for yourself. However, I used my connections in the finance and banking world to get a lucky break with a valued associate I had worked with for many years. His bookkeeper had retired, and he needed someone to manage his family trust, super funds, and his farm.  We won his business, and things took off from there.
In the early days, it can be tempting to drop your prices to win clients and take on quick fix jobs. However, we soon learned that this wasn't a wise long-term strategy. We also worked with a few dodgy operators that we had to let go because their values weren't aligned with ours. Today, we've got around 26 clients on the books and are very happy with all of them.
How supportive are First Class Accounts?
Milton: Nothing is too much trouble for them. Whenever we're stuck on something — whether it's a quick software question, a more complex problem, or a query about tax or finance legislation — they've got the knowledge and skills to help you navigate it.
We have never felt alone and know we can always tap into the franchise network for help too. For example, Trish Jones in Craigieburn gave us some great tips on how to manage our business, pricing, and clients. It's this kind of camaraderie that helps you make good decisions and stay on track.
You've recently been awarded 'Emerging Franchise of the Year', tell us about that.
Nadia: Milton and I always make ourselves available to the FCA family by helping head office, offering insights and advice — and in some cases — mentoring some of the newer franchisees.
We were nominated by someone in the network for the award! It was a real honour to be recognised by our peers for all our hard work, and it's given us a real boost to keep investing in the FCA community and pushing our boundaries to achieve our goals.
What's the most rewarding part of running your own business
Milton: Being in control of your destiny and working for yourself rather than someone else is very rewarding. We're hitting our financial targets and can shape our work around our family. We've got seven grandkids and will take time off during the week to spend it with them and then make up the hours when it suits us. If you're super organised and keep clients happy, then you can build a work schedule that suits your lifestyle. Also, we are building a family asset that we hope to be able to pass down to the next generation when we retire.
What advice would you give to someone thinking about starting a First Class Accounts franchise?
Milton: I've spoken to many franchisees, and a common concern among those who come from accounting or bookkeeping backgrounds, is around marketing themselves. I can assure those who lack a little confidence in this area that FCA does a wonderful job teaching these skills as part of the training. And the marketing support and business mentoring given during the FCA Kick Start Program continues with monthly catch ups.
Nadia: You need to ask yourself whether you're comfortable working on your own. For people used to working in a big company or team, it can be quite a daunting, so going solo requires some careful thought. You've got to be prepared to put in some serious hard yakka at the start, have a passion for small business, be a self-motivated problem solver, and be a people person. If you do have the right attitude and personal traits, then you'll do very well indeed.
So, if you find yourself dreaming of being your own boss then get in touch with our National Franchise Recruitment Manager and find out how we can give you the training, support and systems to help make it happen. Tell us where you're at in your own business journey below – we'd love to hear it!