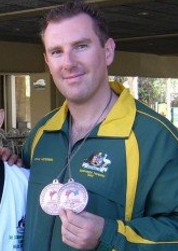 Some of you may recognise our interview subject for today. Michael Westerberg was once the recruitment manager here at First Class Accounts, working as part of our Head Office team. Michael helped people start their business journey. He helped answer their questions and guide them on those nerve-wracking first steps to business ownership. Michael loved his role, but he knew that one day, he'd like to run his own business. After watching so many people follow their dreams, Michael decided that he wanted to stop being an employee, but after seeing the high level of support and training First Class Accounts offered, he realised he didn't want to go it alone.

So he resigned from his recruitment position and started his own First Class Accounts franchise!
Michael will be chatting to us over the next few months as he sets up his business, so we can get a glimpse of what it is like to be a First Class Accounts franchisee.
What drew you to start a bookkeeping business
When I went into First Class Accounts as the recruitment manager, the thing that drew me to the position was the ability to help small businesses, both new franchisees, and also seeing the power of a good bookkeeper on other small businesses. I was able to help make a difference. I always remembered thinking, I'd like to do that, go in and help another small business succeed. I think the desire to run your own business is powerful, and I liked the idea of being able to work for myself AND help other small businesses succeed. I just recognised an opportunity, and the desire to succeed outweighed the fear of leaping in and running my own show. The time was right to go from helping others start out, to it being my turn, I was ready to focus on making my dreams a reality.
Do you have a bookkeeping background?
No! I have experience with payroll and experience with some of the software from a transactional perspective, but I'm not (yet) a qualified bookkeeper. However, I recognised the value in the business model, and how essential the service is, so I knew it was the right business for me, even with minimal practical experience.
There is no way you could try this on your own without any support, and the support that you do get from First Class Accounts is second to none.
I've never known a franchise group like this – and I've worked in a few! My journey so far has had its ups and downs with a few unforeseen personal issues, but through all of that First Class Accounts has been there for me. Their support is genuine, practical and I certainly couldn't have done it without them.
What challenges do you foresee starting your own business
Every small business will face difficulties. Doing this job and doing it well is my priority and that's where knowing I have the technical support from Head Office helps. Marketing is another challenge, but with my experience, and knowing how comprehensive the marketing training here is, I think that should be ok. Running the business itself, well I have a lot of experience running businesses, but not in the bookkeeping industry, so I'll be relying on Head Office again for that training. I'll also be utilising the extensive First Class Accounts network of other franchisees to help me solve problems, and share their experiences.
What are you most looking forward to as you start on your journey?
I love learning new things and gaining new skills, so training is inspiring for me. Growing my business and getting employees on board is a crucial goal of mine. I feel like as part of First Class Accounts, I already have my marketing department, I have the business support, I have a technical team on hand for tech support. So I'm looking forward to establishing my team to work with me. I don't want to do just the bookkeeping, I want to work ON the business as well, to get out there and network and see how and where I can expand my franchise.
What is the most significant adjustment when you go from employee to franchisee, running your own show?
Time-wise, the study has been pretty comparable to full-time work, so that hasn't been too difficult. Cashflow is always a challenge when you first start, but it's been manageable, and I knew what I needed to start out with. As they say, nothing worth doing is easy! I firmly believe in chasing your goals; my motto is here's the future, here's your opportunity, get up and grab it.
What do the next three months look like for you?
My focus right now is on honing my skills as a bookkeeper. I know I'm going to rely heavily on head office to make sure all of my work is up to (exceptional) standards so I can help my clients.
Training can have its challenges. Most people have been working as bookkeepers or accountants for a while. But training is really comprehensive, so I'm starting with a great foundation. First Class Accounts is at the forefront of the bookkeeping industry, so I'm learning best practice from the get-go. It's an excellent opportunity to build solid technical foundations to make sure my work is 100%
I'm focussing on producing quality bookkeeping and growing my client list; then I can assess my business and work on my growth strategy.
Thanks so much for your time today Michael! We can't wait to continue this series and give you a behind-the-scenes peek into what life is like as a First Class Accounts franchise owner. If you'd like to speak to someone about starting on your own franchise journey, give Richard a call on 1800 118 611 or click here to register your details.