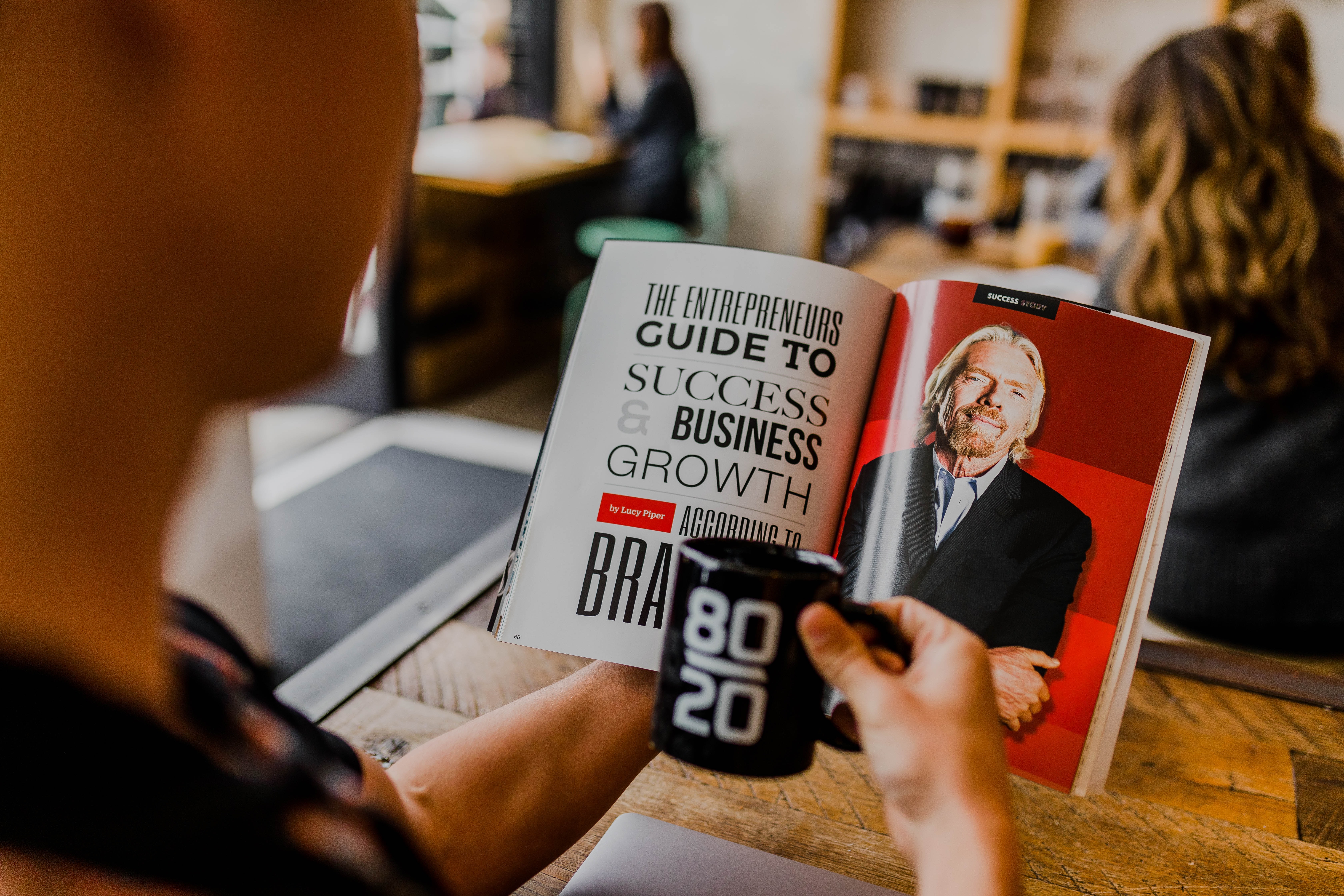 Whilst we navigate the tricky waters of 2020, some people might find themselves with more time to read, listen or explore their business information. Others might desire the distraction or need some ideas on evolving their business. Maybe you need some inspiration, some practical bits of advice, and exposure to some interesting theories that challenge you and bring out a desire to do better, be better and make a difference.
Whatever your needs, here are a few things we are reading, listening and following at the moment to help inform our business practices and work goals. 
Podcasts to subscribe to
The Tim Ferris Show – Many of you may already know the business podcast powerhouse that is The Tim Ferris Show, but for those that don't, it's time to get on-board. Tim has a unique way of interviewing and has chatted to thousands of business leaders as well as celebrities and delivers a podcast full of gritty strategies and business truths. Tim aims to understand what makes his guests tick so that you can implement some of their daily strategies into your own life. With guests as diverse as Neil Gaiman, Arnold Schwarzenegger, Reid Hoffman & Brené Brown, there's a reason why this podcast is the #1 business podcast downloaded.
https://podcasts.apple.com/au/podcast/the-tim-ferriss-show/id863897795
 Business podcast honourable mention goes to: TED Talks Business.  https://podcasts.apple.com/au/podcast/tedtalks-business/id470622782?mt=2
 The Smart Passive Income Podcast with Pat Flynn – An all-round business podcast, this one is jam-packed with tips & tricks to building businesses. It covers marketing, technology, leadership, sales and cash flow advice with topics ranging from Last Minute Cyber Monday Strategies to Get More Sales, Not So Fun Business Stuff (But in a Fun Way) & How to Actually Make Progress and Grow Your Business. This podcast gives you a broad overview of life in the business lane in one easy, downloadable spot. https://podcasts.apple.com/au/podcast/smart-passive-income-online-business-blogging-podcast/id383084001
 Big Ideas – This one isn't technically business based – but that's the point. No one wants to spend all of their spare time focused on one topic. A successful, well-rounded life needs variety. ABC's Big Ideas program is designed to bring you updates and ideas on Australia's pressing social, cultural, scientific and political issues. It will not only expand your knowledge on topics outside your comfort zone, but it will also provide you with great small talk conversation ideas at that next Networking event 😉
https://podcasts.apple.com/au/podcast/big-ideas/id164330831
 Honourable mention: Conversations, another ABC gem that inspires you to spend an hour in someone else's life.
https://podcasts.apple.com/au/podcast/conversations/id94688506
Websites to follow
Flying Solo – Need something other than Facebook to browse on at lunchtime/while you're on hold to the bank? Flying Solo is a terrific resource for solo business owners and those interested in improving your business and connecting with others. Not just full of articles to read, Flying Solo is also a community with forums, podcasts, meetups and member profiles. It's designed to make solo business life, not feel so alone. https://www.flyingsolo.com.au/
Dropbox Blog – You don't need to be a Dropbox user to benefit from their business ideas & social commentary. It is the home of big business ideas with each article reading like a (very engaging) research paper. Their section on work culture provides insights into leadership, the cult of busyness, how your mind works (they have a whole category on this series!) and provides well-researched, engaging ideas that will help you on your 'best' journey in 2020. https://blog.dropbox.com/
Heads Up – This website should be at the top of all business owners bookmarks. Jam-packed with beneficial, practical information, this website aims to create better mental health in the workplace. With resources for employers, employees, managers and small business owners, it should be your go-to when designing policies, dealing with staff or trying to broach tricky topics with your boss. https://www.headsup.org.au/
Books to read
Indistractable: How to Control Your Attention and Choose Your Life 
Author Nir Eyal knows what he's talking about when it comes to technology – he's the one that wrote the book on it! His 2011 book Hooked: How to Build Habit-Forming Products is a silicone valley bible that outlines how developers could manipulate the psychology of their users and modify their behaviour. Well, somewhat dismayed at the beast he helped create, Nir has done a 180 of sorts and has written a new book on how to break the control technology seems to hold over our lives. But this isn't an anti-tech book. Rather it's an investigation into the psychology of distraction overall. An excellent read for anyone who wants to feel a bit more in control of their lives https://www.nirandfar.com/indistractable/  
Factfulness : Ten Reasons We're Wrong About The World – And Why Things Are Better Than You Think 
The list of accolades and endorsements that this book has received is pretty mind blowing (think Barack Obama & Bill Gates, Sunday Times, New York Times, Observer & The Guardian #1 Bestseller lists to name a few!) and with good reason. Factfulness reveals the power of facts in a post-truth world by legendary statisticians Hans, Ola and Anna Rosling. It is an impressive and essential book that will change the way you see the world and make you realise things are better than you thought. While it may seem a bit obvious that bookkeepers would recommend a book that encourages us all to use data & statistics, if it's good enough for one of the worlds richest & most philanthropic men, then it's good enough for us!
https://www.booktopia.com.au/factfulness-hans-rosling/book/9781473637498.html
Why We Sleep by Matthew Walker
Despite being released in 2017, this is probably the one book that has the power to change your 2020. Sleep is something we all need & we all think we know about, but neuroscientist Matthew Walker takes us deeper into the sleep zone and examines what happens to us when we don't get enough sleep (startling & kinda scary) and why we will all benefit from many more Zzzzz's. Describing sleep as a 'wonder drug' designed to cure most of our common ailments (and prevent some serious diseases) Walker encourages us to redesign our life, and gain more time by snoozing more. Sounds good to us! We all start off our New Years with a promise to get our health & lifestyle in order, and if that's the top of your resolution list this year, then this book should be your first step.
https://www.booktopia.com.au/why-we-sleep-matthew-walker/book/9780141983769.html
 If you've got a business-related blog, podcast or book you'd love to share, comment below or head to our Facebook page to continue the conversation.