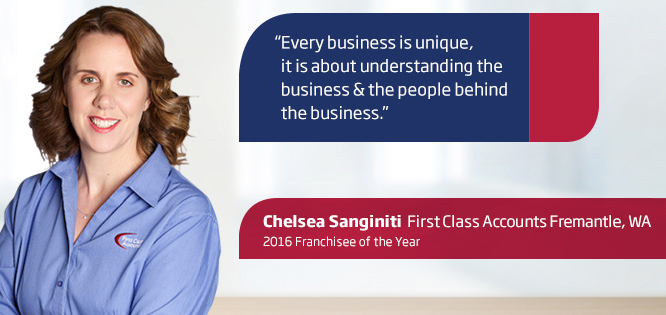 Is it possible to run your own successful business, set your own hours and chase after two small children at the same time? For Chelsea Sanginiti, the answer is yes – you can even become Franchisee of the Year.
When Chelsea took over a First Class Accounts franchise from her mother in 2009, it wasn't an easy decision. There was pressure on her to make the right call for her future, as well as plenty of self-doubt about whether or not she could do it (and succeed).
She had spent several years working in corporate jobs across Australia and the UK, but when she arrived back home and the opportunity came up to work in the family business, she had little to no bookkeeping experience. Fast forward 7 years and Chelsea is at the top of her game – she has grown the business to 4 staff and over 50 clients and has just been crowned 2016 Franchisee of the Year.
Over that time, Chelsea has been faced with the option to renew her franchise agreement twice since taking it over from her mum. Both of those times she didn't hesitate to say yes.
"I've had clients ask me regularly why I don't just branch out with the business on my own – but I wouldn't have it any other way because of everything I get out of it."
We sat down with Chelsea and asked her why she remains a First Class Accounts franchisee after all these years, and here are the top 3 reasons she stays part of the First Class family:
1. There's always head office support available
The support from head office is fantastic. They're always with you every step of the way, and they keep you abreast of everything that's happening in the industry.
You just get the feeling that they really care. You can air your concerns, and you're always listened to. I honestly can't fault them.
Actually, there is one thing…being in Perth the head office doesn't quite align with our operating hours. But there is always someone replying to my emails out of hours anyway – so never mind!
2. The culture and community is so unique
The culture here is incredible. It's one of the main reasons why I have kept renewing my franchise agreement. There's a real culture and community here. You can't buy that or force it with an institution.
You would think that it's competitive between franchisees, but it's the complete opposite. It's not competitive at all. We actually refer each other work regularly.
There's a real family environment here. You go to a conference, and everyone is willing to share knowledge with each other.
I've had other franchisees spend 2 hours on the phone with me, teaching me how to do something. Everyone wants to do everything to help the client first and foremost – that's the type of professional body this is.
3. We get the framework for success
Quite simply, we're given the tools and the framework for success. You're given all the systems (marketing, for example) to follow, and they're ones that have been tried and tested already.
Having said that, you're not set in a specific framework. There's a lot of freedom in the franchise too.
You're given everything you need to succeed. With the systems, frameworks and training you receive, and the support you have around you, success really is there for the taking!
If you dream of achieving success in a business of your own, even if you don't have a background in bookkeeping like Chelsea, First Class Accounts will provide the support, culture and framework to take you there. What's your story? What goals do you have for your own business? Share your thoughts below, we'd love to hear it!