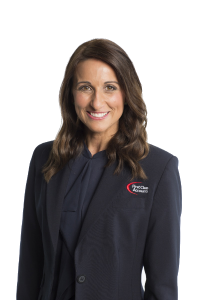 First Class Accounts is pleased to announce Hayley Lewis as a Brand Ambassador. Hayley is well known as a former Olympic Champion and television host, but it's her passion for small business that made her the perfect fit for First Class Accounts.
Since retiring from swimming, Hayley has juggled being a mum to 2 children and hosting a popular television series. In addition, she's managed to run two very successful small businesses. Hayley maintains that her business Coming Up Roses is her working priority, with other commitments supplementing her fledgling business. When asked about her business, Hayley responded, "Other than my family and friends, my business is the most important thing in my life and one of my greatest sources of pride."
First Class Financial Group Chairman Clive Barrett was the driving force behind the strategy to appoint Hayley Lewis as a Brand Ambassador, commenting, "Hayley was a logical choice for us. Her profile along with her tremendous success as a business owner fits perfectly with First Class Accounts and the excellent value our bookkeepers deliver to their clients. You only need to speak to Hayley to understand her passion for small business."
Hayley is also keen to assist other small business owners and will be the star of a new web based video series where she will share her experiences as a small business owner, with some helpful tips and insights into why her business career has been so successful to date.