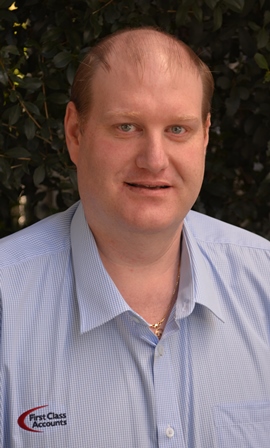 Perth Bookkeeper Darren Law started his business almost one year ago. We Zoomed in to find out what it's like to whether a global pandemic when you're in a new business.
FCA: What made you want to start your own business?
Darren Law: I've worked in small business for over 20 years, to be honest, I was getting a bit bored as I felt like I'd achieved all I could. There were no new challenges to keep my interest up. I realised I could move to just another job and I'd end up in the same frustrated position again in a year, or I could do something for myself.
So I started looking for an opportunity that could present me with new challenges and also give something back. I was interested in helping others and knew from my experience that bookkeeping was such a drain for small business owners, so it seemed like a perfect fit!
FCA: What was your first year of business like?
DL: My first year of business has been exciting and full of challenges, from finding my first clients to attending multiple different networking meetings a month. I have been pushing myself to step out of my comfort zone. I have found stepping up to these challenges has made it one of my most rewarding years ever.
FCA: How has National Office supported you through this time?
DL: Everyone at National Office has been incredibly supportive. Before lockdown, it was great to catch up with the different people at the conference and regional training, as well on the telephone when I have needed help or advice with business development. They all definitely live by the culture of the franchise network being one big family.
FCA: How do you see your business faring through COVID-19?
DL: It's been a bit tough. I lost a few leads in my pipeline when businesses shut down and went into hibernation. With network meetings all going virtual, the personal connections and casual chats are harder to make. But I know as the crisis settles down, I can build my pipeline up again, and my business will flourish. I've managed to build up my business once, so I do not doubt with the support of National Office I can do it again in the post COVID world!
FCA: What was training like?
DL: In-House training was excellent. We had very comprehensive training in all aspects of bookkeeping and all the common software packages, as well as sessions on running a small business. Marketing sessions were also very informative and helpful once I was out 'on my own.'
I think one of the best things, though was building friendships with the other franchisees in my training group. It's so lovely, and such a relief to have people going through the same things you are in setting up a business. We've been there for each other. Meeting and getting to know everyone at National Office was also a great bonus. To be able to put a face to a name when I call up for help or a chat is really reassuring. You don't feel like a number, instead, it's like you are part of the team.
FCA: What has been the biggest shock of small business ownership?
DL: After the excitement of the first few months, it became hard keeping up the motivation while trying to build a pipeline of leads. Marketing and networking are very much outside my comfort zone, so having to put myself out there all the time felt a bit overwhelming. Thankfully, my mentor and National Office were onhand for pep talks, and the other franchisees on Yammer were really helpful. I was able to tweak my approach, and after a bit more hard work, the pipeline of leads started to pay off. Landing my first clients and building up my business was the best reward.
FCA: What has been the biggest relief of small business ownership?
DL: Work-life balance. Being able to support my family when required without having to apply for leave or holidays is liberating. And this is quite a mobile business, in fact, some franchisees travel in their caravans most of the year! So being able to plan holidays and know I can still complete my client work online is excellent. I genuinely believe I have the best of both worlds. I am independent, my own boss in charge of which clients I take on, what work I do when, but I also have a solid network behind me. So if I come across an issue I don't know how to fix, I have the support to get me through. It's really great.