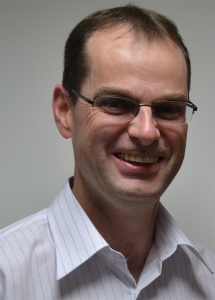 Businesses have their ups and downs. From Qantas to your local butcher shop – each year in business is a learning process. Often, the difference between success and failure comes down to the advice and support you get along the way. It's not just knowing your numbers or providing excellent customer service that propels you to success, but knowing when to adapt, when to stick your heels in or when to say no are vital tools of any business owner.
Darren Butterick has been a franchise owner with us for six years. So we sat down with him to chat about what it's like to run a franchise, not just in that critical first year, but as an established business, experiencing all the ups & downs that come with time and changing marketplaces.
FCA: Hi Darren, tell us about yourself
DB: I'm based in Glenelg, I've run my First Class Accounts business for about six years now. I did my training in 2012 and gone from there. Before that, I was in the public service straight out of school, and I did a wide variety of roles, mainly in the finance and human resources payroll field. I'd been there well over 20 years and was getting a bit disgruntled and frustrated. I think that initially, I saw the TV ad for First Class Accounts and that got me thinking, so I spoke to head office a number of times and just got bits and pieces of information on their process etc. It was about six months of gathering information before I started up a franchise.
FCA: What was the deciding factor for starting up a franchise?
DB: I spent a lot of time gathering information until I felt confident with First Class Accounts. So that made it a bit easier to make that decision. I was concerned about not having the regularity of a wage coming through, but I just really needed a change – and a new challenge. I made lots of calls to head office and didn't feel any pressure or anything. They just kept providing me with the information I asked for and replying to my queries, and then eventually I signed on the dotted line because I knew I would have support all the way through.
I really didn't start out to become a business owner, but talking to other First Class franchisees I grew more confident in my ability to run the business, and I realised the support continued once you signed on the dotted line.
FCA: So after 20 years of being an employee to now, being your own boss? How does that feel?
DB: It's pretty good, to be honest. I really have gotten my enjoyment back for work, and it's excellent having work-life balance. With kids, if they've got a footy game or whatever, I can go and watch that, and it just means I've got to do a bit of work at night or on the weekend. I don't care because I've got the opportunity to see them play and that kind of thing and I'm not spending hours driving in and out of the city to get to work or catching a bus.
FCA: Getting new clients in is an essential factor for a bookkeeper, how were you able to do that?
DB: I think the training that we got when we started was fantastic. For me, not having that business background, they didn't just teach you how to be a bookkeeper. It was how to run a business and the marketing and all the things that you need to set up and that kind of stuff. So I went into it apprehensive, but still confident that I had had that training and I had the steps, and I had the processes in front of me. It was just a matter of getting down and just doing it. I just made a decision the first year I'm just going to do everything that head office had suggested. Some things worked, some things didn't, but to me, it was just a learning year, and I started off somewhat slowly. I might have picked up a client a month the first six months.
FCA: How has your business changed over the last six years?
DB: I started out as a sole trader, and that probably was the first couple of years, and then over time I added one and then a second part-time employee. They were doing variable hours depending on the workload, and that worked very well for a reasonable period of time, and that's when my business kind of really grew over those years.
But, you know, it's not a flat line. Things do go up and down as businesses move. In the past, I've had a couple of clients sell their business. They're going through their life cycle, and naturally, it has an impact on me, but I've never felt any pressure, and indeed, head office is fantastic whether you want to run a small, three day a week business or you want to run a big company with 20 staff. Head office will support you in whichever way. When I lost a few clients, and my part-timers moved on, I felt like I had the support from head office to better manage that process and the flow of business. Since then, I've picked up a couple of other clients, so I kind of feel like it's going back up again.
And the last few months I've just been working with someone from our head office to build that capacity in, that if you gain or lose clients, I can react quickly. So we've just been setting up a few things so that I'm ready for anything… You don't know when changes will come, but if it happens tomorrow or in a few months I'm ready for that, and I can grow again as I need to. But that's been the whole way through. The support from head office has just been fantastic.
Thanks for your time Darren! Did you know you can talk to any of our existing franchisees about their experience and ask questions about their First Class Accounts journey? From those in their first year to those that have been with us for over ten years, our franchisees are really like our family, and we're committed to supporting them every step of the way.