Mark Cassettari has worn many professional hats during his career. From chef, taxi driver, and lawn-mowing business owner, to his most recent role as a tax consultant and bookkeeper, he's always thrived on the ability to control his own destiny. However, in 2015 he felt he'd hit a career dead end. He realised he needed a change. Mark loved solving business problems, and working with people, but hadn't considered owning a bookkeeping franchise as a new way to use his skills and passion until he came across First Class Accounts. Today, he's smashing his financial goals and about to hire his first full-time staff member. We caught up with him to find out more about his small business journey.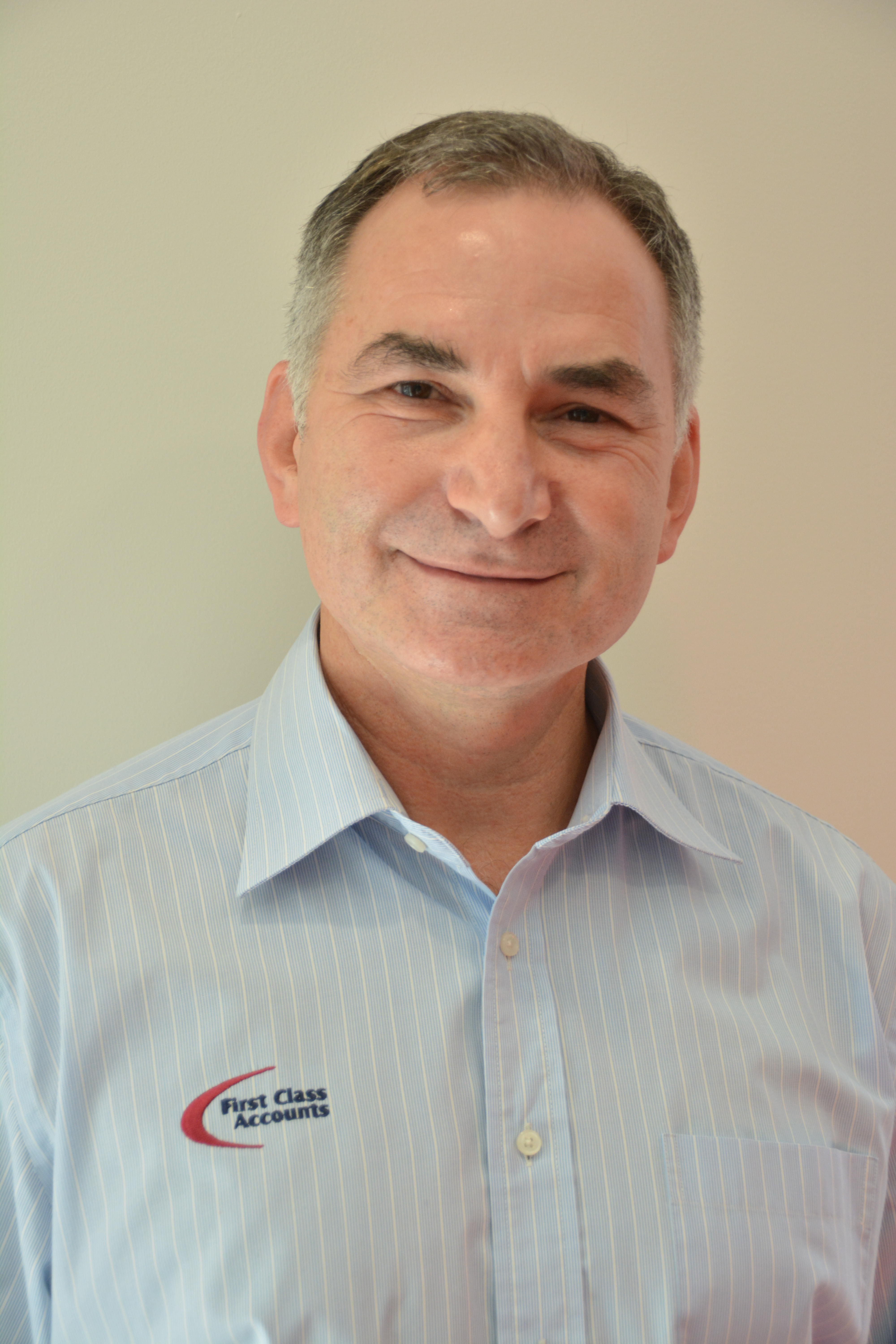 What motivated you to join First Class Accounts?
I'd been with H&R Block as a tax consultant for a number of years and was also doing a little bit of bookkeeping as a sole trader. I had successfully worked my way up at H&R Block to become an office manager. To be able to prepare and lodge tax returns independently meant becoming a tax agent — a time-consuming process I wasn't willing to commit to. Instead, I wanted to start my own venture. It was my partner who first suggested buying into a bookkeeping franchise because becoming a BAS agent was more achievable. So, we researched a few options online and First Class Accounts (FCA) really stood out.
What was it that set First Class Accounts apart?
The first thing that struck me was the professionalism of the staff, especially Bret Ireland, the FCA Franchisee Recruitment Manager. I never felt I was getting the hard sell and always felt supported to explore whether owning my own franchise really was right for me. After I'd done my due diligence on the company and attended a franchise information evening, I knew it was the right move. The First Class Accounts team were welcoming and knowledgeable, and they had the right systems and process in place to help me hit the ground running. I felt I'd be joining a bookkeeping family I could rely on — and happily, I've been proved right.
How useful was the three-month 'Kickstart' training program?
Preparing tax returns is very different from bookkeeping so the training was very important for me. The program was thorough and I really enjoyed the intensive, live-in training we did up at Surfers Paradise because the camaraderie among the new franchisees was brilliant.
Unlike many of the other trainees, I'd run my own business before so felt comfortable about navigating all the legal and administrative things involved. However, for those who felt unsure, there was good support available.
When did you open your franchise and what were the early days like?
I opened in May 2016. The biggest challenges I faced were: winning clients, getting to grips with some of the new accounting software packages, and deepening my bookkeeping knowledge. However, I quickly figured out how to solve them.
First, I decided to use business networking as my main marketing strategy to win business. I did this after speaking to Don Doolan — First Class Accounts Franchisee of the Year — who'd used networking to build up his highly successful business. It's been incredibly successful for me and I'm now at the point where I need to employ another bookkeeper to continue to grow the business.
I completed my Xero and QuickBooks certification so I could look after clients who use these accounting platforms, as well as those who use MYOB. There are always new add-ons and improvements to the software, so I have to ensure I keep up-to-date in order to offer the best value to my clients.
Finally, I used the extra time I had servicing fewer clients in the early days to deep dive into their bookkeeping challenges to become a subject expert. This allowed me to build up a reputation as a skilled bookkeeper who my clients felt confident recommending to other small business owners.
How's business now?
Great. I never set out to earn crazy money, so my budgets are based on giving me a very good living. The good news is that I've actually exceeded them! I didn't think I'd be so ahead of my goals at this point so I'm very happy. And the great thing about First Class Accounts is that I've never pressured to go harder if I don't want to — which is good, because I don't want to feel stressed.
What's the most rewarding part of running your own business?
Most people who go into business are usually focused on improving their product, making their customers happy, and staying ahead of the competition. As a result, they often get behind on their books and this can be a massive source of stress. Without up-to-date books, it isn't possible to lodge accurate BAS and tax returns. For me, being able to take away this burden by bringing their bookkeeping up to speed is very rewarding.
I also really enjoy setting my own hours and making wealth for myself rather than someone else. For example, if I want to take time off to spend with friends or family during the day, then I can because I can make up the hours in the evening or at another time that suits me.
Has running your own franchise positively impacted your work-life balance?
Not yet. I think I'm actually working longer hours because I've built the business up to the point where I need another bookkeeper. Luckily, my partner — a qualified accountant and tax agent — wants to join the business full time. Once she's completed her bookkeeping training and is properly onboarded, then I think we'll be able to manage the business in a way that allows us to be profitable and enjoy more time free time. I'm certainly looking forward to leaving the office earlier in 2018!
So, if you find yourself dreaming of being your own boss then get in touch with our National Franchise Recruitment Manager and find out how we can give you the training, support and systems to help make it happen. Tell us where you're at in your own business journey below – we'd love to hear it!