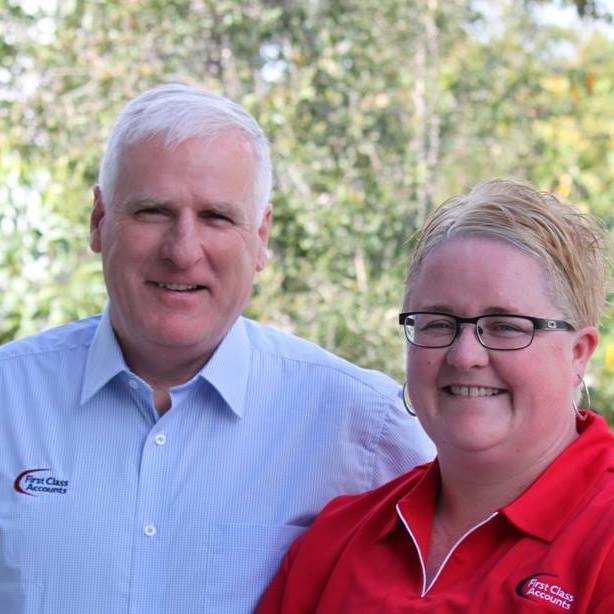 Father and daughter Eamon Rogers and Niamh Campbell dreamt of running their own business. Eamon's company was going through a restructure, and Niamh's role was being made redundant. Both were seeking an exciting new career. They wanted something that would allow them to combine Eamon's nous for numbers and Niamh's passion for technology and customer service. After scoping a number of opportunities, they realised a First Class Accounts franchise ticked all their boxes. Here, they share their business journey and why they're both loving being their own boss.
Could you tell us a little bit about yourselves?
Eamon: I spent 14 years in the public service in Ireland before moving to Australia. When I settled in Perth, I did a Bachelor of Commerce and my Certified Chartered Accountant qualification. I then spent nearly 30 years working in accounting within the logistics and oil and gas sectors before deciding that I wanted to run my own business.
Niamh: After school, I embarked on a photography degree but never finished it. I then did a management traineeship at McDonald's, before going onto manage two Muzz Buzz coffee franchises for ten years.
What was it that set FCA apart?
Eamon: I was so impressed with the professionalism of the company and the friendly nature of the staff during the recruitment process that it filled both Niamh and me with confidence. There was no hard sell, just solid information that allowed us to make an informed choice.
When did you open your franchise?
Eamon: In September 2016 after completing the Kick-Start Training program.
Niamh, working in hospitality is pretty different to running your own bookkeeping franchise. How was the transition?
Niamh: While I certainly didn't miss getting up at 5:30 am to open the coffee shops, I did miss making coffee and the banter I had with my customers.
To be honest, I found moving into bookkeeping a bit daunting because I didn't have a lot of experience. However, having dad with his accounting expertise in the sidelines helped give me confidence while I was establishing the business.
I'm a bit of a technology geek, so one of the things I really enjoyed about moving into bookkeeping was learning how to use all the software that's available to help businesses manage their finances and operate more efficiently. It's a constantly evolving space so I'm always learning and being challenged to find good solutions for our clients' finances and business needs.
How useful was the three-month Kickstart training program?
Niamh: Exceptional. I had no bookkeeping skills before joining and it gave me the skills I needed to start working with clients straight away.
Eamon: Second to none. All my experience was with large ERP systems but by the end of the program, I had a solid grounding in how to use cloud accounting packages such as Xero, MYOB and Reckon. More importantly, the comprehensive training gave me the confidence and tools I needed to talk to prospective clients about their bookkeeping needs.
What were the early days of business like?
Niamh: While dad and I both did the Kickstart program, he didn't join the business full-time until November 2017, so going solo was pretty tough. I remember being pretty scared wondering where our first client was going to come from. Luckily, another franchisee gave me some work to help get me started.
For me, one of the most challenging things was getting in front of people and promoting the business because I was new to the sector and didn't have a lot of confidence. However, with encouragement from family and support from head office it's become easier and I now regularly attend business networking events and win new clients. In fact, networking and face-to-face meetings with businesses who can refer us (such as accountants) are now our most successful medium for new business.
Did you get a lot of support from FCA head office?
Niamh: Yes. I got regular phone calls, and I always knew that if I had any problem then I could always touch base with head office for technical and business advice anytime.
The head office team and the whole network genuinely care about you and want you to be successful. In fact, I remember getting my first client and calling up head office to celebrate because I couldn't get hold of mum and dad — and the team whooped like one of my family would!
How's business these days?
Eamon: It's going well and this is due in large part to Niamh's hard work. In October 2017, we moved into our own small office premises. Since I joined the business in November 2017, Niamh has had more time to get out and win us new work. We now have a client base of 22 and have recently sent out proposals to four more (fingers crossed!). We're now achieving our forecasted budgets and we're getting closer to achieving our financial goals, so it's all heading in the right direction.
How have you found working together as father and daughter?
Eamon: There are days when we annoy each other and days when we work together like a charm — similar to any workplace, really. However, we've grown to really appreciate each other's strengths and how they contribute to a strong business. I'm skilled at the technical accounting side of the business, and Niamh has exceptional customer service skills and is a dab hand with the cloud accounting software. So, we respect that our combined skills offer real value to our clients.
Niamh: It can be difficult to leave work behind when you run a family business. However, when we're home we try not to discuss it. I know that if my husband is in the room and he gets a blank stare on his face then it's time to stop talking shop!
What advice would you give to someone thinking of leaving their job to start their own FCA franchise?
Niamh: You have to be totally committed from the get-go. However, if you stick to the First Class Accounts 13-week marketing plan (a blueprint for building a successful business), lean on head office for support, tap into the expertise and help of the franchise network, and work hard, then you'll be able to achieve success. For me, there is no better feeling than knowing the blood, sweat and tears I put in is for my own financial gain rather than an employer's.
What is the most rewarding part of running your own business?
Eamon: Being my own boss. I get to decide how many hours I want to work a week and at what times. And because there's two of us in the business we can be very flexible and cover for each other when needed. All of this means I now have more time to pursue my other passion in life … golf!